What can we expect in 2015 from Live Write Breathe?
Last year was memorable for Live Write Breathe, with membership more than doubling and posts retweeted on Twitter by the likes of My Book Therapy, Roz Morris, Elizabeth Spann Craig,and Writer Unboxed and, of course, many of you. Thank you.  I'm both humbled and grateful.
Among other topics, we've examined ways to define characters, explored which point of view to use in your novel, set smart goals, and managed our time.  We've covered a lot of territory, but there's more ahead.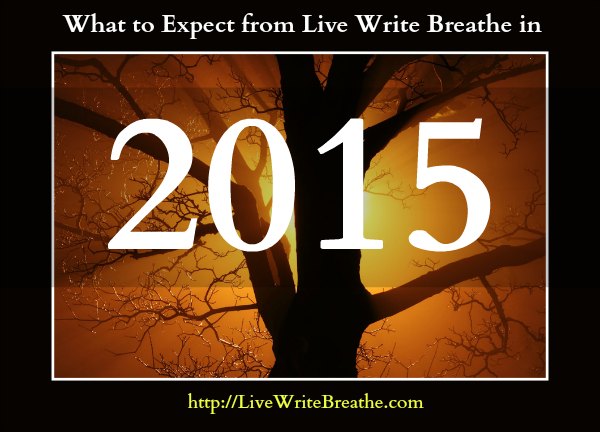 The 10 Best Writing Blog Posts for 2014 here at Live Write Breathe were chosen by page hits. Since many of them have been structural in nature, I'm taking note. Also, the survey many of you answered helped me a great deal. Thank you for your time in replying. In the coming year we'll dive into plotting and story building from several angles we haven't yet touched on.
I'm pleased to announce the Live Write Breathe podcast, which I expect to launch in February. Look for new podcasts every other week. I'm excited about stepping out from behind the written word to connect with you through audio. It's going to be fun!
A change this year is that I'll be offering books on writing for purchase on Amazon and at the site. I'm looking forward to a productive year ahead, and I hope you are, too. If you haven't set your own 2015 goals yet, now's a good time to sort them out for yourself. Best wishes for your prosperity in the coming year.
If you have any suggestions or comments, please contact me through the site. I'd love to hear from you.
Have something to say? The comment link is at the top of the post below the title.
©2014 by Janalyn Voigt
Claim your free copy of How to Edit: Checklists and Guidance for Fiction Writers