Don't ask me why I consider myself an expert on avoiding author burnout, or maybe you've already guessed the reason. Yes, my thoughts on this topic come from first-hand experience.
One of the faults of a visionary type like myself is that my ambitions all too often can overload my resources. Mostly out of self-defense, therefore, I've improved at pacing myself. The burnt hand really does teach best.
Here, laid out for you in neat bullet points are the messy lessons it's taken me months, and in some cases, years to learn.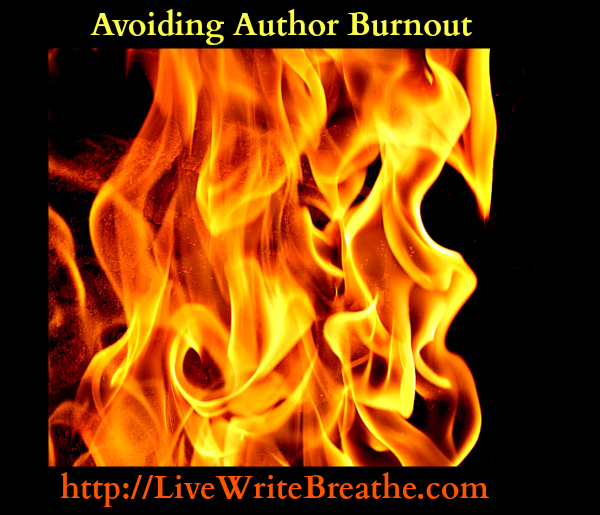 Write only what you love. 

Being personally invited to contribute to a prestigious blog, write for a community newsletter, or submit to an online publication strokes the ego. And yet, if the content you will have to produce isn't something you are passionate about, you'll turn writing into a dreaded chore. This makes your writing life no fun at all and kills your productivity. Don't do it.

Don't try to be all things to all people.

 You can't reach everyone, everywhere, and if you try you may wind up reaching no one anywhere. If you have people-pleasing tendencies, as I do, you'll have to guard against them. In deciding what you will and won't do, it helps to look beyond the personalities to the realities.
Pursue only those writing projects you have the resources to finish. Passion for a topic is a prerequisite, but you also need the wherewithal to finish what you start.  Unfinished projects sap emotional energy, and it's hard to be successful when you feel like a failure.
Take your limitations into account. Make sure you have the necessary abilities and qualifications for a writing project you want to undertake.  Is your level of education adequate to the task?  If not, return to either the chalk board or the drawing board.
Don't be afraid to admit defeat. Maybe you need to end a blog that isn't working out, change the genre(s) you write, or bow out of a writing gig that doesn't reinforce your brand. Trying to salvage something from a mistake may be a further error. Sometimes all you can do is cut your losses. There's nothing more guaranteed to produce burnout in a writer than than trying to carry dead weight.
Trim the fat from your schedule. At least once a year, it's a good idea to examine everything you do as a writer in light of the satisfaction it provides you. I hate to bring up return on investment, but when demands on your time are great, it has to be considered.
Give yourself enough time to think over your commitments. When making a decision, don't rush in  but allow yourself time to consider all the possibilities. If you've ever said yes to something, then immediately regretted it, you'll know what I mean.
Tempering your enthusiasm for writing with practical wisdom can save you untold frustration. It can free many more hours for pursuing those projects that fulfill you as a writer. Remember that only you can live your dream.
Have something to say? The comment link is at the top of the post below the title.
©2014 by Janalyn Voigt
Claim your free copy of How to Edit: Checklists and Guidance for Fiction Writers