This week I'm sending you to my guest post for Wordserve Water Cooler, my agency's blog for the next installment in my Build a Social Media Platform series: Goodreads for Writers. 
Here's a sample from the post:

Do you daydream about a massive virtual library where lovers of books rub shoulders and authors receive free privileges and promotional opportunities? Well, dream no more. Such a site exists. Surprisingly, many writers ignore Goodreads.
A basic membership affords even unpublished writers the opportunity to include a photo and profile information, make friends with readers and other writers, share book recommendations and reviews, create their own virtual bookshelves. and join groups and forums (including groups of readers who love books in their genres).
Published authors can add the following privileges: Read more at Wordserve Water Cooler.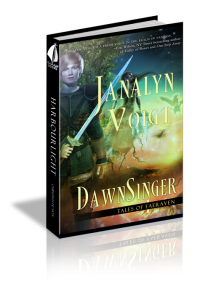 Need a good book to read?
DawnSinger, Tales of Faeraven #1 by Janalyn Voigt
A headstrong young princess and the guardian sworn to protect her fly on winged horses to the Gate of Life above the Well of Light in a desperate bid to release the DawnKing, and the salvation he offers, into a divided land. Will they each learn in time that sometimes victory comes only through surrender?
Purchase DawnSinger today!
©2013 by Janalyn Voigt
Subscribe to the Creative Worlds of Janalyn Voigt and receive a free copy of How to Edit: Checklists and Guidance for Fiction Writers