"'The difference between the right word and the almost right word is the difference between lightning and a lightning bug.' That Samuel Clemens was one sharp tack."
"What? Didn't Mark Twain say that?"
"Well, yes, but Samuel Clemens was his real name."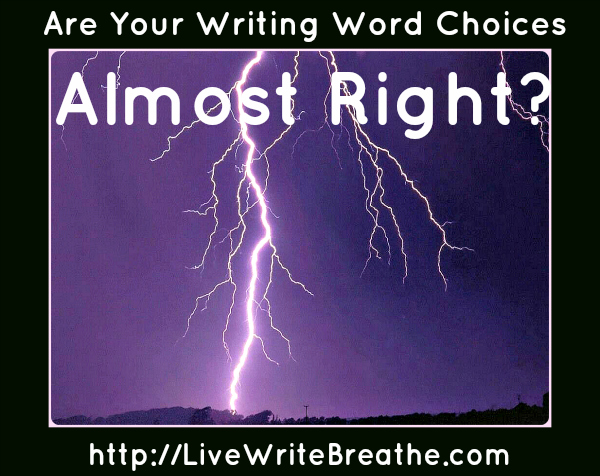 Referring to Mark Twain by his real name is not wrong but simply out of context. Samuel Clemens was the man, not the author.
It's easy to do the same thing in our writing. What's the difference between a slum and a ghetto, for instance? Well, about 200 years. Should a British child enjoy cotton candy? Not when there's candy floss around. Would a businesswoman who had never been south of New York really refer to a shopping cart as a buggy?
Word choice can be problematic because we filter it through our own experience. As a child I spent part of my summers visiting relatives in Missouri, so it was hard for me to come up with my shopping-cart-versus-buggy example for this post. Online slang dictionaries abound, but I had to get past the fact that almost every word was familiar to me to find a word to illustrate my point.
A useful tool to help us analyze words is the Online Dictionary of Etymology. Type in a word and you will come up with a variety of defining terms with the date of the earliest written record beside each one. Just watch out or you'll while away some time exploring fascinating side topics.
We don't know what we don't know. It's truly difficult to find your own etymological mistakes. When editing, look for words that don't fit in context, and also let other knowledgeable people go over your work. This is why writers need one another and why having your work professionally edited before offering it for public consumption is usually the best option.
Have something to say? The comment link is at the top of the post below the title.
©2014 by Janalyn Voigt
Claim your free copy of How to Edit: Checklists and Guidance for Fiction Writers