Have you ever wondered what to say to someone you've just met in a social situation? There's nothing worse than that tongue-tied sensation. I'd rather say something sincere than spout banalities. Figuring out how to write an authentic author newsletter can feel much the same. I struggled for years to sort out what to include in mine. I'm glad to say that I finally know what readers want from me. I hope in this article to shortcut the process for you.
How to Write an Authentic Author Newsletter
An author friend of mine publishes a highly successful newsletter on a non-fiction topic. This works for her because she publishes books, writes magazine articles, hosts a podcast, and runs a membership site on the topic that is not only integral to her life but also her passion and brand. She also would like to write fiction, but that is one part of the whole picture for her.
I share my friend's interest and could offer products on the same topic. However, that would take time away from writing fiction, which I would far rather do. You can no doubt see where my priorities lie. I am all about fiction. It took me a ridiculously long time to accept that fact.
I was afraid my storytelling wouldn't be enough. I tried all sorts of angles to manipulate readers into following me while withholding what they most craved, and my newsletter stats reflected this. I had to move past my fear to believe in myself as a novelist. That mindset shift has made all the difference.
I struggled for a long time with how to write an authentic author newsletter. I have been described as honest to a fault, which I believe is a fair assessment. Transparency comes easily for me, so that wasn't the problem. I went overboard the other direction. Assuming that newsletter subscribers wanted to know me better, I described details of my personal life I should have kept private.  It's devastating to pour your heart out, only to be met by indifference, or worse, unsubscribes.
I had to learn that readers don't want to know about my reflections on relationships and social issues, except as incidental offerings. This sort of extraneous information, if I include it at all, should be a rare seasoning rather than the main course of my author newsletter. Readers want to know about me, yes, but primarily as the writer of a book they enjoyed. For more help on how much to share with readers, read "Author Privacy — How Much to Share with Readers."
The time factor comes into play as well. I need to offer content relevant to my books or I'm wasting time in establishing my reader base for what I really want to write about. This also benefits readers, who want to know more about the story that brought them to me in the first place.
What do Readers Want in Your Author Newsletter?
Readers want to read topics relevant to your books. They want intriguing research tidbits, your experiences while writing or promoting your books, playful character interviews, recipes included in your books, and stories behind the story. Also, and most pressingly, they want news of more stories from you.
If you're like me, storytelling is what you do best. Don't try to be anything other than what you are.
If you're like my friend, identify your passion and build your newsletter, brand, and products around that. I know authors who successfully write about relationships (as I failed to do), but they either have mental health credentials or have built brands and products around subjects like surviving sexual assault and teen parenting. For more help with branding, read "What is Branding Anyway? Seven Reasons Why You Care."
Final Thoughts from Janalyn
We'll go into specific content ideas in this blog series on creating an awesome author newsletter. I wanted first to nudge your own creativity, since that is your best guide.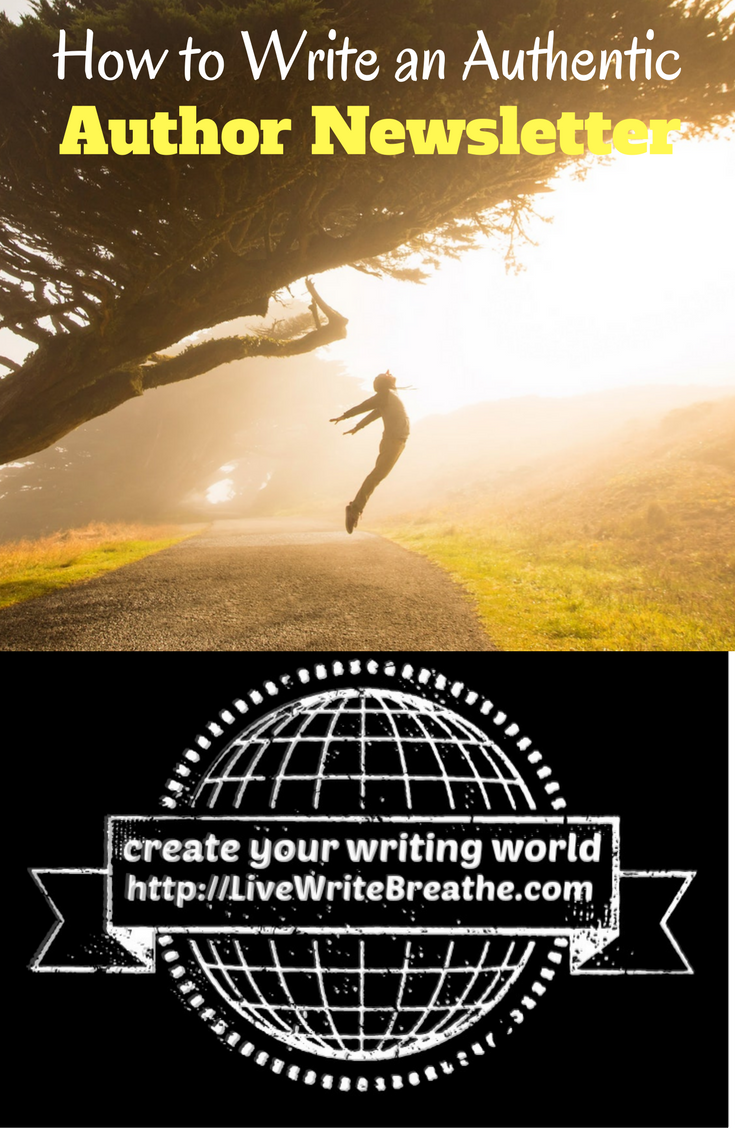 The image used in this article is courtesy of Stephen Leonardi.