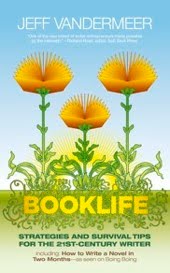 Confused and worn out by the battle to get up to speed with and balance your involvement with social media? Wish you had a techno-savvy publishing insider willing to advise you in establishing yourself as an author in the public eye? You're in luck. Jeff Vandermeer acts as guide and, in some ways, as a conscience for writers. Vandermeer helps you make sense of the growing number of Internet landscapes in Booklife: Strategies and Survival Tips for the 21st-Century Writer.
Wiith chapters on subjects like mapping your future, time management, branding, platform, networking, managing contacts, interfacing with editors and publicists, promotion, standing out from the crowd, and maintaining your own private "booklife," this book serves a healthy helping of meat and potatoes.
But Vandermeer doesn't stop there. He pours on the gravy by giving readers a look into an actual PR plan for one of his books and examples of writing schedules he's followed.
Appendices written by the likes of James Crossley, Jill Roberts, Colleen Lindsay, Nathan Ballingrud, Marly Youmans, Cat Rambo, Matthew Cheney and Jeff Vandermeer himself on topics such as the changing relationships of writers to agents, editors and booksellers, marketing techniques, new media, creativity and how to write a novel in two months add a sweet finish.
This book is full of relevant, common-sense advice an author can draft from to establish both a public and a private writing life. Bear in mind that while the author does make an effort to include self-published writers and those published by small presses (having first attained publication himself through a small press) he draws mostly from his own experience with traditional publishers. Despite this, there's value enough in Booklife to make it valuable for all writers.
Reviewed by Janalyn Voigt, author of DawnSinger
Available for purchase on Amazon: Booklife: Strategies and Survival Tips for the 21st Century Writer
*My thanks to the publisher for a complimentary copy of Booklife, provided for purposes of review.
**Janalyn Voigt is an Amazon Associate and benefits when products are purchased on Amazon.com through links from Live Write Breathe.