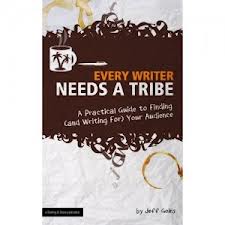 If you're looking for a good, swift kick in the backside along with some heartfelt advice, Every Writer Needs a Tribe is the book for you. Jeff Goins demystifies use of social networking to build a relevant author platform. Goins gives specific advice on finding your target audience, the importance of engagement versus numbers, how to blog effectively, and when to stop revising.
In his characteristic unpretentious manner, Goins questions the prevailing wisdom about building a platform. He gives lots of food for thought as he breaks the process of building a tribe down into manageable chunks. The chapter headings convey the gist of the content well. Here are a few: Stop Waiting to be Picked, How to Start Building a Platform, The Five Types of Platforms, The Hard Truth About Writing, Getting Started With a Blog.
If you need comprehensive guidance in the attitudes and practices required to build a tribe of fans for your writing, you will definitely benefit from this book.
Reviewed by Janalyn Voigt, author of DawnSinger (Tales of Faeraven)
.
Purchase Every Writer Needs a Tribe: A Practical Guide to Finding (and Writing For) Your Audience (The Digital Writer)
.
*Janalyn Voigt is an Amazon Associate and benefits when products are purchased at Amazon.com through links from Live Write Breathe.