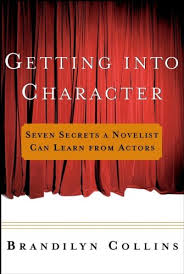 In Getting into Character Brandilyn Collins teaches writers to think like actors. That might seem an alarming idea, but the two disciplines are quite similar. This book explores the 'method acting' techniques taught by Constantin Stanislavski.
Calling on her stage acting training and experience as an award-winning author to help novelists create believable characters, Collins illustrates each of the book's points with apt analogies and vivid examples that make the seven character creation techniques  crystal clear.  You are left in no doubt about how to apply what you learn to your own writing. Exploration points in each chapter give you the opportunity for hands-on learning.
The chapter on subtexting  alone is worth the price of the book. We subtext when we communicate without words or with words other than what we mean. This is one social art a writer can't afford to ignore. Collins helps us identify subtexting and determine when to use it. She explains four ways we communicate through use of subtexting and analyzes solid examples of this technique.
Other chapters cover:
Personalizing: the art of making a character your own.
Action Objectives: motivations and how they relate to inner values.
Coloring passions: exploring all the shades of feeling.
Inner rhythm: expressing the inner life of a character.
Restraint and control: to efficiently and accurately portray characters.
Emotion memory: using your past experiences to help you relate to your characters.
It is well-written, easy to read and digest, and informative. Each topic challenges a writer to delve deeper in order to produce realistic, beautifully-layered stories. I highly recommend Getting into Character by Brandilyn Collins for writers who want to build a strong foundation for character development. Interestingly, getting in touch with the characters we create helps us as writers better understand ourselves.
Purchase Getting into Character by Brandilyn Collins.*
*Note: Amazon affiliate link. If you are interested in purchasing this book, doing so through this affiliate link is a way, at no additional cost, you can support this site.