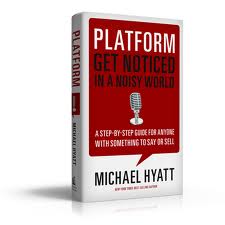 In Platform, Get Noticed in a Noisy World Michael Hyatt offers step-by-step advice to help writers create compelling products, compete in a crowded marketplace, avoid obstacles to achieving success, and build a well-constructed platform from the planning stages to inception and beyond.
Hyatt's friendly writing voice married to his practical advice seems designed to soothe overwhelmed writers. While inspiration abounds in this book, it's really a work manual. Topics include creating an author website, blogging, making videos, building an email list, launching product, and social networking.
I recommend you read it several times while taking notes, and then act upon the advice in a logical manner to build a winning platform.
Reviewed by Janalyn Voigt, author of DawnSinger
.
Purchase Platform: Get Noticed in a Noisy World
Note: Janalyn Voigt is an Amazon Associate and benefits when products are purchased on Amazon through the affiliate links she provides.