Have you ever seen an author website that was amazing, but you didn't know why? Things like professional photographs and cool special effects aren't hard to identify, but what made the author seem larger than life? The answer is a branded website. Most successful authors have their brands figured out. This creates the impression of self-confidence at their websites.
I revised my website after finally discovering my own author brand. I wondered if I'd ever be able to make that statement. Since I went into business with a partner as a social media mentor and taught on branding at writing conferences, you'd think my own brand would be easy to figure out, but it took me years of struggle. I discovered that I knew my brand all along but thought it had to be harder. Don't overlook the obvious, as I did. My brand? I am a storyteller who writes adventurous novels and loves to travel.
As Popeye famously said, "I yam what I yam." When you show the same self-acceptance and confidence at your website, sales are bound to follow.
Create a Branded Author Website
You are not just an author, but a flavor of author.
Popeye is not just a sailor, but a sailor man. He brands as a macho mariner who eats his spinach.  This captures the essence of who he wants us to see. Do you think Popeye would cry over movies? I doubt it.
Don't you love going into one of those ice cream parlors with scads of flavors to choose from? No one walks in and orders a scoop of ice cream without naming a flavor, right? (If you're not into ice cream, substitute a coffee roaster, candy maker, cheese factory — you get the idea.)
Your author brand must relate to your books.
One branding mistake writers often make is to develop a brand around a hobby they enjoy. Being a cat lover, a golfer, or even something intriguing like a fossil hunter does not a brand make. Unless your books involve cats, golf, or fossils, centering your brand around other interests makes them seem to come out of left field. Suzy, the cat lady who writes historical romance probably won't reach her readers by posting about her little darlings on her website. Neither will David, the golf king, who writes medieval fantasy.
To put this another way (because I can't help myself, I like allegory), if your flavor as an author is like a scoop of ice cream, the cone that holds it would be your books. A cone is like a handle that gives the customer (your reader) something to hold onto while enjoying its contents. Pick the wrong cone, and the ice cream isn't as delicious. Ah, but with the right cone, we have a match made in heaven.
To discover a brand that relates to the books you have and/or want to write, find a common element and consider how it might connect to one of your interests. To illustrate this, I'll use my own website. At the Janalyn Voigt author website, I brand as a storyteller who writes and has travel adventures. My novels usually involve epic journeys, so I build my author brand around my interest in travel.
If you need more help on discovering your brand, read: Author Branding in 4 Steps.
Consider what readers want when making your branding decision.
Sufficient readers to help you meet your sales goals must share your passion for the topic you choose for your author brand or it won't bring you the results you crave. I've heard writers brag about writing for themselves, and sometimes they become successful. Most often, that's because enough readers share their interest. But do you want to rely upon coincidence? When deciding your brand, don't leave readers out of the equation.
Everything at your website should support your author brand.
Now we come to the fun part, adjusting or creating your website to match your author brand. Why are you giving me that look? Technical issues aside, if you have an ounce of creativity in your bones, you will enjoy developing your website around your author brand.
You could look at your website as having a main theme. In my case that's travel. I include quotes about traveling into books, offer a variety of background images that pertain to my brand (like horses, bridges, etc.), and call my online journal Literary Wayfarer. Although I don't travel every month, I talk about past trips or about my journey through life. These posts are unique to me and give readers glimpses into the life of a working writer. I publish them at my site and link to them in my newsletter.
Everything at my website, from fonts to images, corresponds to my author brand. This creates a coordinated effect that tells readers what to expect from me.
Final Thoughts from Janalyn
You can create a branded website by remembering the following:
You are not just an author but a flavor of author.
Your author brand must relate to your books.
Consider what readers want when making your branding decision.
Everything at your website should support your author brand.
Homing in on your author brand narrows the choices you make at your website to what will work best for you and your audience. This saves time that you can spend writing.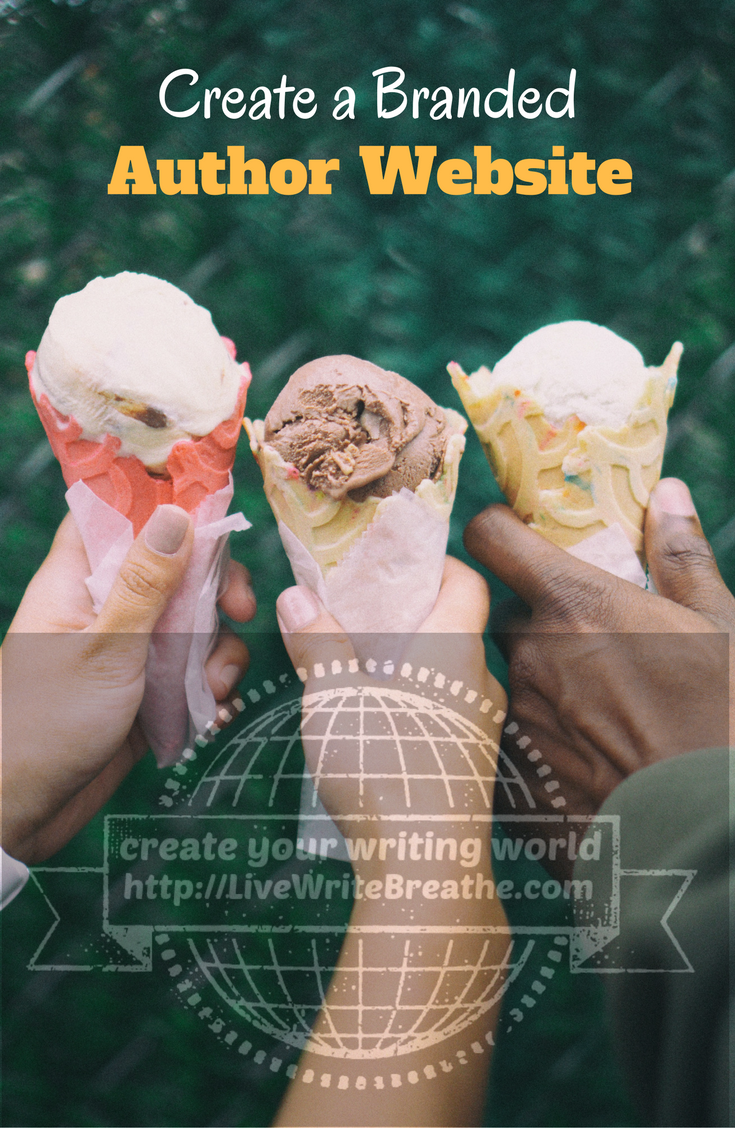 Photo by Mark Cruz on Unsplash