The hero of your story gazes at the heroine from…now what color did you make his eyes?  A minor character crops up again, and you rack your memory for words to search so you can find out what you named him. And you catch two of your characters making the same defining gesture.
Does any of these scenarios sound familiar? Trying to carry too many character details in your head can tax a writer..
To stop losing track of the large cast of characters in my epic stories, I put together a character development cheat sheet. I used this to create the Live Write Breathe Character Development Worksheet, which you are welcome to print for your own personal use (only*).
Character Development Worksheet
The worksheet is eight pages long. The categories I've selected are name, physical description,  defining characteristics, friends and family, personal history, love interests, favorites, and character arc. There's even a blank page, in case you want to add more categories or extend one of the pages to another sheet. Here's a look at the first page: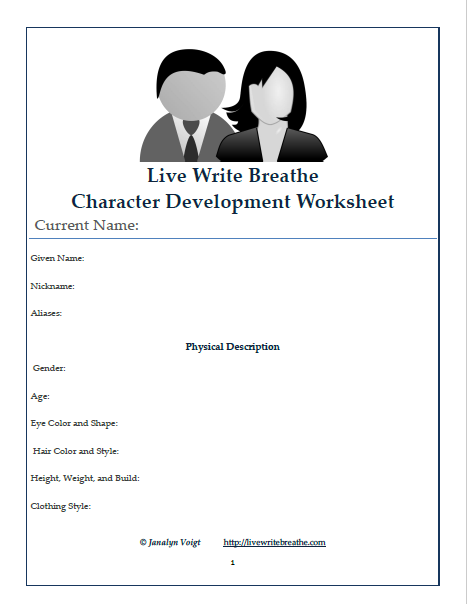 Using this worksheet has helped me gain a better understanding of my characters before I write, and this provides the following benefits:
Save time while writing the first draft. With this free printable worksheet, you'll have character details at your fingertips.
Avoid scene relocation or rewrites. Prevent many of the story shifts that create the need to adjust the story.
Spare yourself unnecessary editing caused by unfamiliarity with your characters.
Create realistic dialogue by creating more context for each character. You'll have a better chance of knowing what each person would naturally talk about in a particular setting.
Find important story elements. Working through your characters' backgrounds, desires, fears and preferences, among other factors, helps you discover keys that can unlock a better story.
Develop character arcs. Identify your characters' deepest desires, greatest fears, and motivations.
Write a richer story peopled by characters you know well.
This character development worksheet can save you time and frustration while helping you write a deeper story. And, it's free!
Access the Character Development Worksheet.
*Since this is my intellectual property, I ask that you direct writer friends who would like to use the worksheet to this page