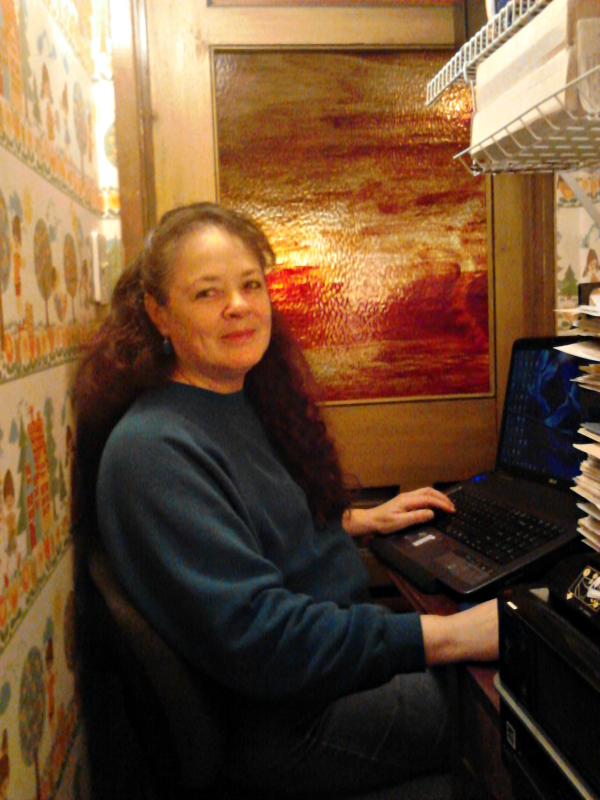 Why would someone with a full-sized office choose to write in a closet? I can answer that question. The story of my shift to a closet writing office began with my hunt for a quiet place to record audio versions of my books and a podcast.  The best location I could find was a 7′ by 3′ closet that at the time was crammed full with Christmas decorations.
The vision of my new home recording studio, gave me the determination needed to clear out the closet and move set up a studio office. I stepped back, satisfied with the results.
Since I only have one laptop computer, however, there was a problem. Whenever I used my sound equipment, I'd have to carry my laptop back-and-forth between my upstairs office and my downstairs recording both. That didn't seem very efficient.
Then I noticed an interesting fact. Over time I'd made space in my upstairs office for homeschool activities, gardening, meal planning, and other household pursuits. In fact, much of my office was actually dedicated to other pursuits.
Could all of my writing files, equipment, supplies, and books fit into my downstairs office? Almost. My small library of books on writing now sits in a bookcase just outside the door. Everything else I use for writing, including my printer and a filing cabinet are inside the closet. My computer and printer sit on an antique sewing machine stand. There was room enough to fit a nice office chair, and being close to the wall supports my back as well.
A nice bonus of writing in a closet is that such a confined space eliminates most distractions, thus improving the ability to focus.
I've been asked if it's claustrophic to write in a closet and also if I can breathe well enough. The door fits loosely and lets in air through gaps at the top and bottom. It also has a window that admits light. Sitting right beside it keeps me from feeling too enclosed. I can open it whenever I wish and sometimes opt to work with it open. However, I  usually keep it closed to shut myself into my writing world, is not the least bit small.
©2014 by Janalyn Voigt