Writing Question of the Week: 
How do you create a fictional world with both science fiction and fantasy elements?
This question was first asked Janalyn on Quora.
Your Writing Questions Answered by Janalyn Voigt
For years I objected to fantasy and science fiction being lumped together. Since fantasy is more intuitive while science fiction leans toward logic, pairing them seemed to me a lot like the proverbial mixing of apples and oranges.  

Then I noticed that my fantasy novels contain elements of science fiction. In Tales of Faeraven I employ travel between worlds, appearance of a star, a time lock, and alternate worlds,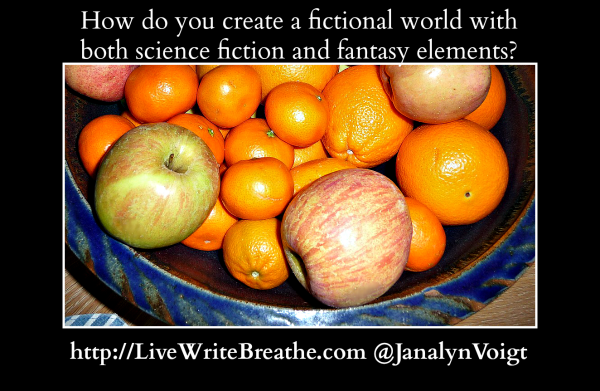 I've read that the best fantasy novels have their roots in science, and I think that's true. It takes science to create a viable and believable fantasy world. Science serves as a base to anchor the whimsical elements. 

Even with its analytical nature, science only takes us so far. There's so much we don't know. We're still discovering uncategorized animals and plant species, and there's an ongoing debate over whether time is infinite. No matter how analytical science becomes, there is always room for wonder.

I'm convinced that the best fantasy worlds are most like earth. That makes sense when you think about it. Each reader enters a fictional world as a stranger who needs to acclimate. The shorter that process can be, the better. It is the story, and not the special effects, that will most captivate your readers. 

Build a world with geology, weather, flora, and fauna that all make sense, then from that springboard jump off into fanciful areas. Introduce them as a parallel reality and you won't have to explain them as part of your world's natural laws. Or the fantasy elements in your novel can disrupt the logical order, putting your world out of balance in a way that needs to be corrected.

I hope these tips help you develop your own worlds of logic and wonder. And if you'd like to check out the world of Elderland in Tales of Faeraven, start with Dawnsinger.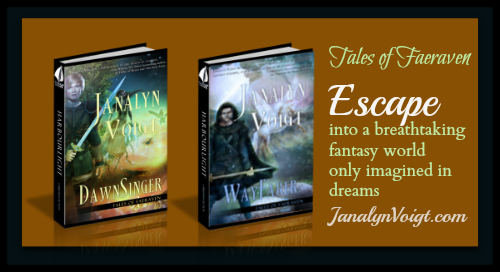 Have something to say? The comment link is at the top of the post below the title.
©2014 by Janalyn Voigt
Claim your free copy of How to Edit: Checklists and Guidance for Fiction Writers