Ever have one of those aha moments where you realize your existence as a writer is not exactly the norm? This happens to me on a regular basis. I have stared at a cold cup of tea at my elbow and wondered who put it there. Since I was the only one home at the time, that seemed a moot point.
Once I was sitting on my porch step, talking to my husband through a screen door about the elves in my story, when I noticed a couple hurrying past on the sidewalk and leveling glances at me. It wasn't until later that I realized they must not have seen my husband through the screen.
If your creativity extends beyond writing, opportunities for self-discovery expand. Last night while I was preparing to vend at a holiday festival, a member of my family wanted me to look at something on the computer. I responded that I had to keep working and couldn't go to bed until I finished gluing hundreds of little boxes together and editing a chapter in my audiobook. That's when it struck me that the average person never has cause to utter such a sentence. I think of those people as 'others.'
'Others' turn in on time every night because they don't have to stay up late to meet writing deadlines. Most aren't public people, so their privacy is safe. Unless they teach English or are compulsive, they don't edit themselves as they talk. They're not afraid to open emails or read book reviews. And they usually don't concern themselves  with the difference between who and whom.
The writing life comes with a lot of expectations, my own and those of others. I want to accomplish certain goals. I've never had an affiinity with numbers, but now my progress is measured in them. How many likes, follows, subscribers, sales do I have?  There's no faking it until you make it these days. Being so easily read can feel like walking a tightrope without a net (or at least how I imagine that would feel).
The trouble is not in the writing. I am married to the writing. The issues are everything surrounding the writing. The need to be more business person than artist, increased competition in the marketplace,  and the vulnerability of submitting my art to others for comment can make me want to pull the covers back over my head of a morning.
I once worked as an assistant underwriter for an insurance company with an office in a Seattle skyscraper. When the workload became crushing, a co-worker and I would fantasize about opening an espresso stand. Now, I'm sure that actually running an espresso stand has its complexities, but to us the idea seemed the eipitomie of slimplicity.
When it comes to living life as a creative artist, sometimes the grass looks mighty green on the prosaic side of the fence. At such times the temptation to stray tugs at me. That's when I remind myself that this life lets me be the creative artist I am.
I choose life as a writer, warts and all.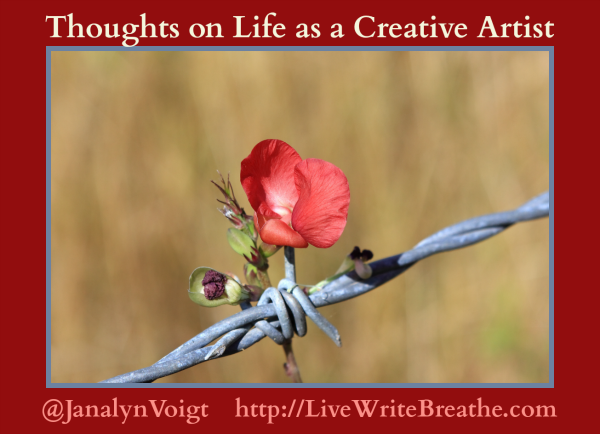 Have something to say? The comment link is at the top of the post below the title.
©2014 by Janalyn Voigt
Claim your free copy of How to Edit: Checklists and Guidance for Fiction Writers