Emily Elizabeth Dickinson was born on December 10, 1830, in Amherst, Massachusetts, the second of Edward and Emily Dickinson's three children. Emily grew up in Amherst, in a house built by her grandfather, leading a quiet and privileged life. Her father, known by some as "Squire" Dickinson, maintained a religious fervor that Emily failed to emulate, despite her father's insistence she attend weekly sermons in the Congregational church across the street.
 A religious revival Emily attended during the winter of 1845 stirred a response within her. While attending Mount Holyoke Female Seminary (later to become Mount Holyoke College) during the school year of 1847-48, Emily experienced another religious revival that moved her spiritually, but she remained unwilling to testify to a conversion experience.
Ben Newton, a law student working in her father's office, gave Emily a copy of
Ralph Waldo Emerson's Poems (affiliate)
 for Christmas in 1850. Emily read and reread all of Emerson's books, which inspired many of her own poems. Other influences on the poems of Emily Dickinson include the Bible, hymns she sang in church,  and the works of Shakespeare and Hawthorne.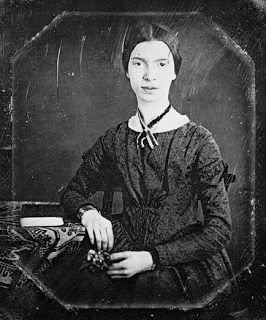 Many have speculated over several love poems Emily wrote, but the object of those poems remains unknown. Emily never married, coming close only once. However, it was not to be. Judge Otis Lord died before they could marry. Emily lived a passionate life devoted to her books, garden, and various correspondences with friends and mentors. When her father died in 1874, Emily went into a long seclusion that earned her the title of the "Nun of Amherst" and lasted until her own death on May 15, 1886.
Emily Dickinson is now recognized as one of the greatest poets of 19th-century America, however, during her lifetime only seven of her poems saw publication. After her death, over a thousand poems were found in her bureau. In all, she wrote 1,800 poems, only 24 of them bearing titles. Four years after Emily's death, "corrected" selections of her poems began to appear, published by friends and relatives. Her work did not appear as written until 1955, when Thomas H. Johnson published a 3-volume edition of Emily's original, unedited poems.
The poems of Emily Dickinson have a way of startling you into seeing life afresh. Whether you write poetry or not,  that's a talent to glean from by reading her poems. Emily assigned much value to reading, herself, as she testifies, below: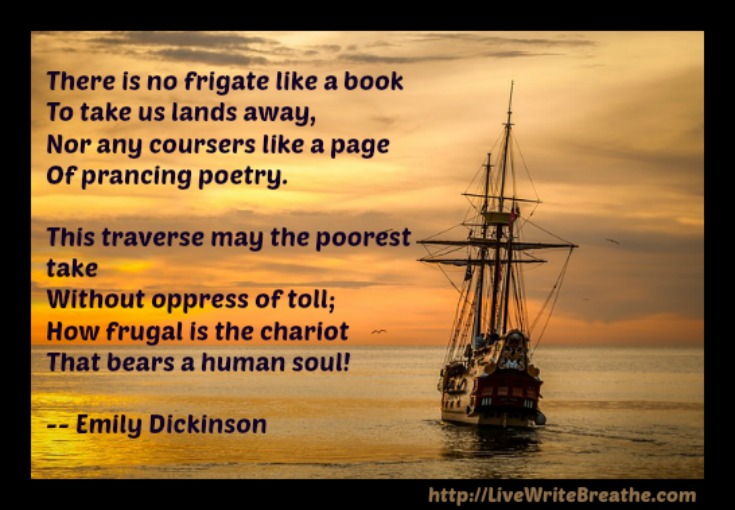 Read the poems of Emily Dickinson*
Emily Dickinson's Poems: As She Preserved Them (affiliate) 

The Complete Poems of Emily Dickinson. the Only One-Volume Edition Containing All of Emily Dickinson's Poems (affiliate)
*Janalyn Voigt is an Amazon associate.  Purchasing products through her affiliate links is a way at no additional cost to add help support Live Write Breathe.