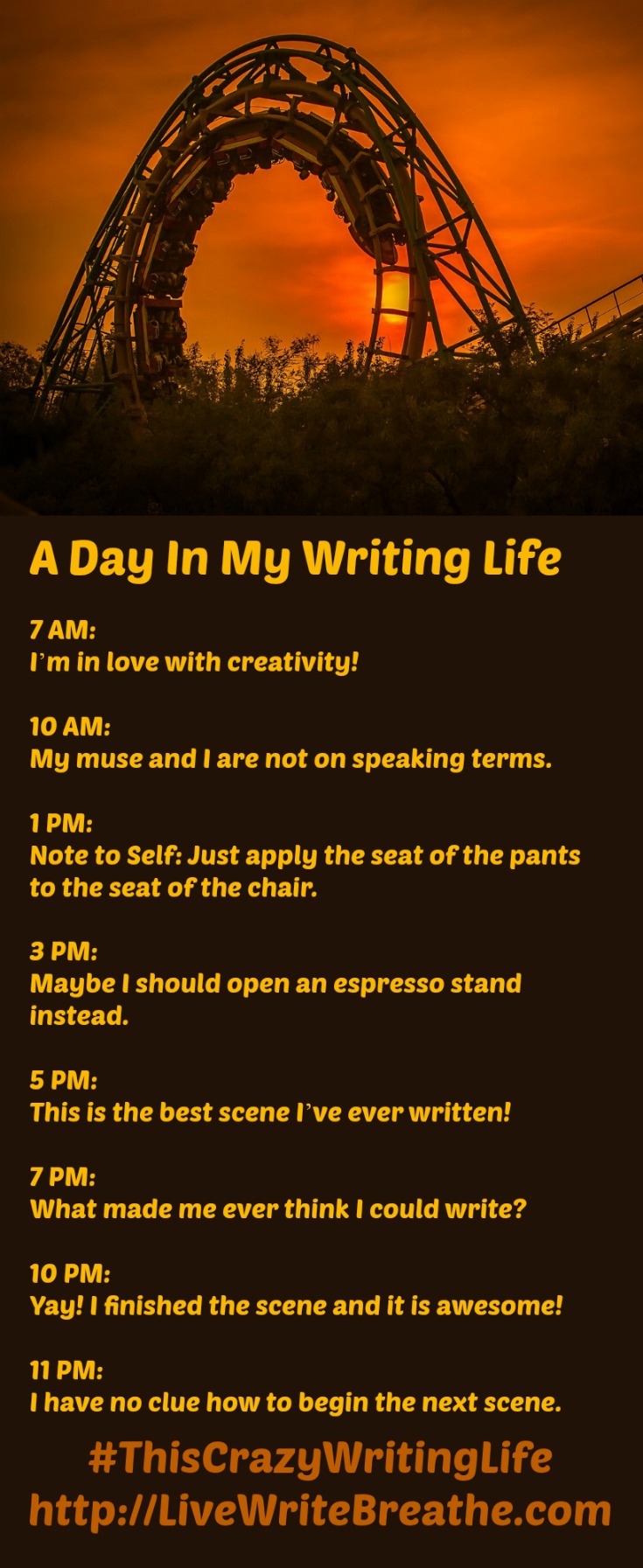 Getting Off the Writing Roller Coaster
The writing life is filled with paradoxes that, while logical, can make a writer seem a bit eccentric to the casual observer. It's hard to step outside my own perspective, and so the quirkiness of my behavior can elude me. That is, until I bump into it, which forces a definition.
My response is to divide the world into writers and 'others.' 
I once worked as an assistant underwriter for a large insurance company in Seattle, each day reporting to the top floor of a skyscraper and working long hours at my high-stress job. The boss and I developed a friendship, and when office politics or the work load burdened us too greatly, she and I would go out for coffee and commiserate. Over our lattes, we fantasized about opening an espresso stand. Now, running an espresso stand probably has its share of stress, but to us it represented a simpler lifestyle.
Sometimes, when a deadline looms or other stressors intrude, I remember those conversations.
Would I ever actually leave the writing life to do something else? Probably not, but I'll admit I have wondered what life would be like as an 'other.'
If my life as a writer were a play, I would take the role of both protagonist and antagonist. The classic plot conflict of man against self becomes evident when I am writing. My mood can taint my judgment, variously inflating or deflating my evaluation of my manuscripts. Life as a writer is a roller coaster at times, but I have learned to accept the highs and lows as normal. In fact, artists of all disciplines experience creative angst. Seasoned artists exhibit more resilience, and so tend to hold steadier.
This is where studying the craft of writing and going through the process of learning through critiques and edits saves me. I can base my judgments on what I know to be true of the writing craft rather than on my own capricious emotions. That doesn't mean my feelings don't have an impact on me, but I can more readily take them in stride now than I could as a new writer.
Knowing my writing voice helps me identify when something fits and when it doesn't, and I've learned that each story has a voice also. I am simply a caretaker, responsible to nurture my story, wash it clean, and display it to best advantage.