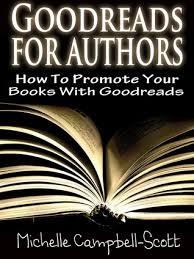 With 25 million  members, 750 million books, and 29 million reviews Goodreads is the world's largest book networking site. It's a shame, then, that more writers aren't active in the Goodreads community. Navigating the website isn't that hard to figure out, but it can be more difficult to know what to do as an author on Goodreads. For instance, is it all right to recommend your own book? What are the benefits of participating in groups? And what should you do with your author page?
Wordserve Watercooler published my Goodreads for Writers, and that's a good post for grabbing the basics quickly. For a more in-depth treatment, I recommend Goodreads for Authors
.
Michelle Campbell-Scott, approaches Goodreads with such enthusiasm its clear she's focused a great deal of her energy there, teaching herself details a more casual visitor will miss. She also offers some promotional strategies she has used to success. This book shortcuts for busy writers the process of sorting out this important social site.
I recommend pausing to implemented the numerous tips and strategies as you go. For the truly time-pressed, the author offers 'if you're in a hurry' summaries at the end of each chapter, but for the best results, read the complete text.
This book is chock-full of information, from how to install a Goodreads widget at your website to targeting advertisements to how to encourage reviews. There's also guidance on how best to conduct yourself at the site from someone who is a true insider. Oh, and did I mention the suggested schedule for tasks to be done daily, weekly, often, and around a book release?  Goodreads for Authors

by Michelle Campbell-Scott is well worth the purchase price.
Reviewed by Janalyn Voigt, author of Dawnsinger
Purchase Goodreads for Authors
.
Note: Janalyn Voigt is an Amazon associate. Purchasing products at Amazon.com through the links she provides is a no-cost way you can support this site.
©2014 by Janalyn Voigt
Claim your free copy of How to Edit: Checklists and Guidance for Fiction Writers