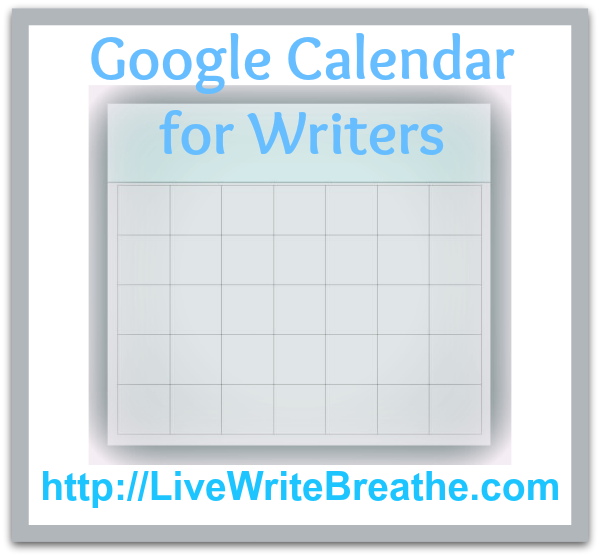 I'll admit it. My schedule has so many moving parts, I'd be lost without a way to keep track of them. Google Calendar is my go-to solution.  It allows me to maintain separate calendars for different purposes and view them in any combination or alone. Here's how I use Google Calendar for writing:
I enter deadlines and track word count goals in a manuscript creation schedule. I'm still learning to pace myself, so seeing everything measured onto a calendar by date helps prevent me from overbooking while helping me fulfill my goals. To do something similar, decide how much you realistically can write in an average day, and then divide that into the total word count for your project. The result is the number of days you'll need to write to complete your first draft. Now, repeat the process for your editing passes. Create an event for each increment of your writing and editing and assign each to a day you'll be working on your writing. Leave yourself a small margin for the unexpected. The result is a self-generated deadline with daily goals.
I keep blogging calendars for both my Creative Worlds and Live Write Breathe blogs where I plan future posts. I create blog posts around themes that reoccur, so I find the feature that allows me to schedule repeating events useful. I also color-code these events so I can see an upcoming theme at a glance. I prefer to go to the calendar during my scheduled blogging times to refresh my memory on the topic(s) I planned to write. However, in the past I've set up reminders to go to my inbox. I'm all for easy, so I love that Google Calendar allows you to make any of your calendars public and embed it on your website. This means that if you wish to apprise readers of upcoming blog posts, you can do so right from your scheduling calendar with no extra work.
I keep track of my speaking engagements and other appearances in a separate calendar to which I link with a calendar icon from my speaking page so that those interested in booking me can check my availability.  It's no extra work to let others see the same calendar I use to send reminders of my upcoming engagements.
As a literary judge and book reviewer, I read to deadlines. Lining up books to read in order is no longer possible with some of them now e-books. When finishing a book, I'd lose time to confusion about what I should read next until I implemented a reading schedule.  Soon other uses for this calendar cropped up, like making sure I include books on writing, for research, and that I really want to read. This calendar helps me plan my reading according to how much time I'll be able to allocate to it.
My private writing calendar is for all those items I want to keep private, like a phone call with my agent or a research outing.
I use a book launch schedule to help me plan and keep up with all activities centered around the release of one of my books. By pre-planning, I save myself anxiety and am able to gauge which things I can expect to complete.
A nice thing about Google Calendar is that you can use it to invite people to events and track RSVPs. They can subscribe to your public calendars. You can also sync your calendars to a mobile device.  When it comes to leveraging my time, Google Calendar has a lot of benefits for a writer.