When it comes to writing, there's a lot to be gleaned from babies learning to walk.  Have you noticed they don't seem to care that they'll fall?  Again and again, they launch out on wobbly legs, their faces set in determined lines. Driven by an inner purpose, they never stop to question whether they should be walking, and no one can tell them to stop trying. Once babies begin learning to walk, there's no going back.
If I'd paid more attention to babies, I'd probably have found my way into print much sooner.
Looking back, I can see that certain steps led to my signing with an agent and contracting with Harbourlight for publication of DawnSinger
 and WayFarer, the first two books of the epic fantasy series, Tales of Faeraven. It seems so obvious a path, in retrospect, but at the time I traveled it I couldn't always see where it led. Some of the steps even seemed to lead away from my destination as a published, agented author, but all were necessary.
My dream died.  I had grandiose ideas of what it would mean to be a published author. It didn't matter who my audience was; they existed for me. When I lost what would be my first nonfiction book contract due to a problem within the publishing house, I gave up my dream in discouragement.
Self-discipline became my focus. As a Christian, I follow the Bible which teaches that self-control is one of the qualities that leads to a fruitful life. Establishing a good work ethic paved the way for the sacrifice writing success demands.
I stopped obsessing over getting published. I took up a long-abandoned project (DawnSinger). Publication no longer mattered as much as telling the story that had been trapped inside my mind for far too long. That shift in focus gave me the patience I needed to complete and polish my novel.
I joined a local writing group. If I hadn't done this, I wouldn't have gained the support and self-confidence that saw me through the submission process. I also met friends who would later pull me through a dark time.
I learned to invest in others. As an antidote to the self-absorbed writing career I'd at first sought, I decided to help other writers put the word out about their novels. That was my main goal for promoting other writers, but it netted me favor that helped me when my own book released. It also helped build my platform and taught me how to promote.
I surrendered my dream. When another contract fell through, I was left for the second time with a shattered dream.  Because I had already released my own ideas of publication, this loss hurt but didn't crush me.
I stepped up when things looked darkest.  I rallied and submitted DawnSinger to Harbourlight, the publisher that just three months later offered me a contract.  Had I given up in discouragement when my previous contract ended, I'd have missed both publication and signing with the agent who agreed to represent me.
It would be easier if I could give you a formula that would produce results, but writers find their way in the publishing maze in a variety of unique ways. Just remember not to think about falling, and each time you fall, stand up again.
Answer this question to win a free copy of DawnSinger (winner's choice of format): What can you add that might help other writers?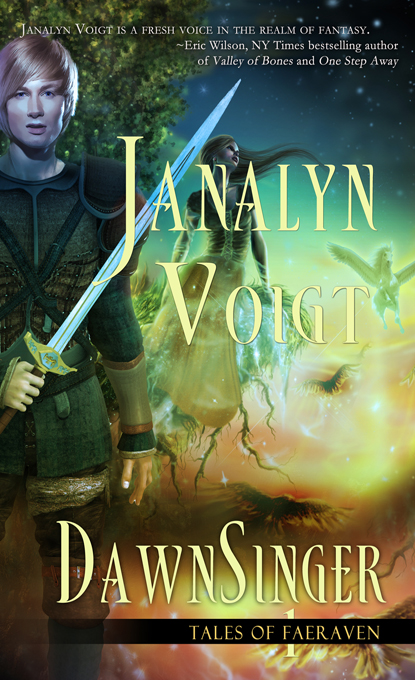 A headstrong young princess and the guardian sworn to protect her fly on winged horses to the Gate of Life above the Well of Light in a desperate bid to release the DawnKing, and the salvation he offers, into a divided land. Will they each learn in time that sometimes victory comes only through surrender?
From the Back Cover: 
The High Queen is dying… At the royal summons, Shae mounts a wingabeast and soars through the air to the high hold of Faeraven, where all is not as it seems. Visions warn her of danger, and a dark soul touches hers in the night. When she encounters an attractive but disturbing musician, her wayward heart awakens. But then there is Kai, a guardian of Faeraven and of Shae. Secrets bind him to her, and her safety lies at the center of every decision he makes. On a desperate journey fraught with peril and the unknown, they battle warlike garns, waevens, ferocious raptors, and the wraiths of their own regrets. Yet, they must endure the campaign long enough to release the DawnKing—and the salvation he offers—into a divided land. To prevail, each must learn that sometimes victory comes only through surrender.
For a second chance, sigh up to receive Live Write Breathe posts in the box on the right or Creative Worlds of Janalyn Voigt posts at my Janalyn Voigt author site and tell me so in a separate comment to this post.
The winner will be chosen through randomizer.org next Thursday, August 30th at midnight.
There's more!
This post is part of the WordServe Watercooler Parade. Visit the original post to enter two giveaway drawings, and then visit the other participants for a chance at amazing gifts and stellar writing advice from other published and agented authors:
1. Anita Agers-Brooks: Anita Fresh Faith
Get your free copy of my e-Book, Marketing with Personality, when you comment on my blog, and provide contact information at the link provided in the post.
2. Julie Cantrell: Julie's Journal
Chance to win a signed copy of the NYT and USA Today bestselling novel, Into the Free.
3. Dianne Christner: …plain girl romanticizing…
Chance to win a free copy of Something Blue.

4. Dena Ratliff Dyer: Mother Inferior
Giveaway is a prize pack of books for women.
5. Jan Dunlap: Jan Dunlap's Blog
The first chapter of A Murder of Crows: A Bob White Birder Murder Mystery. Book to be released in September!
6. Michelle Griep: Writer Off Leash
Giving away an e-book of Undercurrent.
7. Karen Jordan: BLESSED Legacy Stories
Leave a comment on my blog (before August 31) for your chance to win a copy ofHeavenly Company by Cecil Murphey &Twila Belk (my latest book contribution).
8. Sharon Lavy: Sharon Lavy's Blogspot.
Giving away a set of mugs and book A Friend in the Storm by Cheryl Ricker.
9. Gillian Marchenko: Gillian Marchenko's Blog
Giving away a copy of Anne Lamott's Bird by Bird to a commenter.
10. Katy McKenna: Fallible
A chance to win a Mary Engelbreit journal and set of note cards.
11. Melissa K. Norris: Inspiring Your Faith and Pioneer Roots
Chance to Win 10 Page Critique of Your Novel and Query Letter.
12. Jordyn Redwood: Redwood's Medical Edge
Chance to win a signed copy of Proof.
13. Cheryl Ricker: Fresh Air
Two winners will receive their choice of A Friend in the Storm or Kernels of Hope.
14. Kimberly Vargas: Kimberly Vargas's Blog
A chance to win one of ten autographed copies of Gumbeaux.
15. Janalyn Voigt: Live Write Breath
Chance to win a free copy of DawnSinger (winner's choice of format).
16. Lucille Zimmerman: Lucille Zimmerman
Chance to win a Lemongrass Eucalyptus Bath Body Lotion Scrub Spa Set
Hope you enjoyed our parade!
Baby Walking Photo by puravida from morguefile.com
---
©2013 by
Janalyn Voigt
Subscribe to Live Write Breathe today!