Build a Professional Writing Career: How to Interest a Literary Agent
Gaining the attention of a literary agent can seem a formidable task.  I once felt that way about it myself, but now I'm represented by  Wordserve Literary. How did I come to the attention of my agent?
The following three things are what you need to interest an agent:
builidng a platform that gets you noticed. There are a lot of ways to build a platform. You'll want to tailor yours around your passions and to reach a specific audience.
writing a stellar manuscript. A wealth of information awaits you on this topic in the Live Write Breathe writing and plotting categories.
presenting yourself as a professional. We'll cover this topic in detail. Presenting themselves as professionals is not something writers think about much, but its importance can't be emphasized enough.
What a Literary Agent Wants From You
Put yourself for a moment into the mind of a literary agent hoping to find a worthy author to represent. It goes without saying that you would want this author to have a decent platform and write with excellence, but there's another consideration as well.
Since the behavior of any writer you represent reflects on you as an agent, you want to know you can trust the writer not to embarrass you.
Your potential literary agent wants reassurance that you will behave in a professional manner. This means you will be pleasant to work with during negotiations, willing to consider opinions other than your own, and that you can meet deadlines. With this in mind, it becomes imperative at every contact with a potential agent that you present yourself well.
How To Approach a Literary Agent
There are four possible ways to approach a literary agent.
In Person: This is the best way. Agents make themselves available to writers who have the gumption to take themselves to conferences. Approaching with a well-crafted pitch sentence and outline may net you the agent's card with a special email address and submission instructions. These often include some sort of code to include in the subject of your email, alerting the agent to the fact that you are sending requested material. This gives you at least a foot in the door.
With a Letter: Email is cheap but writing and posting a letter takes time and effort. According to Donald Maas in Writing the Breakout Novel, making the effort to write a letter can put you in a smaller fish pond, since most people approach by email. Make sure your letter is well written and represents your novel or nonfiction book well. If you need to know how to write this letter, I offer a free query letter template. You'll also want to make the effort to have your own letterhead. It doesn't have to be costly, but it should be tasteful. I also offer a free letterhead template.
By Email: If an agent indicates that email is the preferred method for submissions, you'll want to be accommodating and send your query or proposal (whichever was requested) by that method. If you need an example to draft from, take a look at my free agent query letter template.
With a Phone Call: This is the worst way to approach an agent and could have an opposite effect on your success. I wouldn't do it without an express invitation. Agents are busy people, so an unsolicited phone call would most likely be an intrusion. I can call my own agent whenever I want, but I never do without scheduling an appointment. It's important to me to let her know I respect her time.
Mistakes Not To Make
Putting through an unsolicited phone call to a potential agent is one mistake, but there are a lot of other ways you can set your foot wrong.
Spell the agent's name wrong.
Submit an unfinished novel.
Hound the agent about your submission. Following up in three months is an acceptable time frame.
Threaten the agent, even in jest.
Claim God wrote your manuscript.
Neglect to mention a multiple submission.
Corner or stalk the agent at a conference.
Dominate the agent's time at a conference.
Send an unchanged proposal back to an agent who rejected it.
Treating agents right is all about respecting them as people, and the golden rule definitely applies.
Best Practices
Pay attention to grooming. First impressions matter.
Wear clothes that reinforce your brand and announce you as a professional writer.
Walk and sit with correct posture. Not slouching is a simple way to communicate self-confidence.
Don't announce you are nervous. If you don't mention it, others may not notice, even when you think it sticks out a mile. Remember, you are trying to reassure the agent about you, not seek reassurance from the agent.
Make appropriate eye contact. Not looking at the agent will communicate that you have no confidence in your writing, and this is the opposite of what you want to convey.
Interact with potential agents on social sites before meeting them or submitting anything. That way your name will be familiar, giving you more of an edge. Do this naturally as it occurs to you. Getting carried away could make you seem like a stalker or at least obnoxious.
Send a card to agents after a conference thanking them for their time spent in meeting with you. So few writers do this that you'll stand out. This is an easy way to reinforce to the agent that you would be pleasant to work with. If you stamp and self-address the envelope before you go to the conference., all you'll need to do is personalize and sign the card, address the envelope, then drop it in the mail right at the conference.
Follow up with any invitations you receive. Few people actually send submissions requested by agents at conferences.  This fact alone increases the chances of anyone who follows up.
When you are outside the literary agency door, knocking, being let in can seem impossible. I know the feeling, but all I can say is don't give up. You have to believe in yourself before anyone else ever will.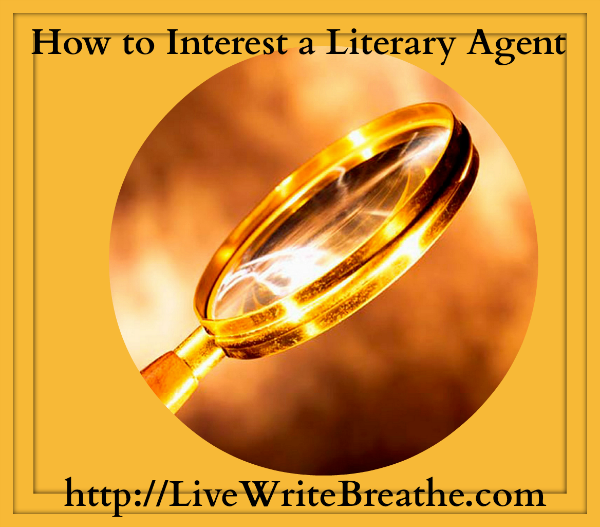 Have something to say? The comment link is at the top of the post below the title.
©2014 by Janalyn Voigt
Claim your free copy of How to Edit: Checklists and Guidance for Fiction Writers