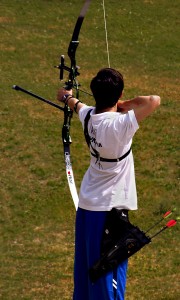 We must have a theme, a goal, a purpose in our lives. If you don't know where you're aiming, you don't have a goal. ~ Mary Kay Ash
Substitute the word "books" for "lives" in the above quote. Without a clear theme a book wanders without purpose through its settings. It might entertain, but it won't linger on in the reader's memory or impart anything of lasting value. A good theme will resonate with readers as it drives your plot. First identify your story problem, and then draw out the greater question behind it. That question is your central theme.
A story problem consists of the following elements:
Desire: What does your main character want? This desire drives the plot toward a specific goal.
Problem: A shift or change in your protagonist's life causes interference in obtaining the desired goal. To raise the stakes, have this shift drive your protagonist toward his or her greatest fear.
Cost or risk: What will the solution cost? What are the risks?
Solution: How will your story resolve? Will your main character realize his or her goal — or not?
Examples:
Story Problem: A grieving widow longs to find happiness again (desire). When a suitor presses her with his attentions (problem), she must let go of the past (cost or risk) in order to realize her goal (solution).
Theme: Is it possible to find happiness by letting go of the past?
Story Problem: A teenage boy whose father was murdered wants to make sense out of his father's death (desire). When he discovers the identity of his father's killer (problem), he must set aside his desire to seek revenge (cost or risk) in order to forgive (solution).
Theme: Does revenge make sense of murder?
Story Problem: A young girl who wants to fit in (desire) encounters a bully in a new school (problem). When she faces her fear and confronts the bully (cost or risk), she discovers the bully's cowardace and gains the respect of her classmates (solution).
Theme: When facing our fears diminish them?
Action Step
Identify the burning message you want your story to convey. Once you do, it's pretty easy to find your story problem. Give some thought to the greater question you will answer. State it, and you'll have found your theme. As a bonus, you can use your story problem as the foundation for your pitch sentence.
What's the story problem and theme of your current work(s)-in-progress?
Photo credit:  Lisa Solonynko
---