A dynamic opening scene begins a reader's flirtation with your novel, but if you'd like infatuation to deepen into a real relationship, the best had better be yet to come.  You can work hard to plot your novel, create believable characters, and make your writing come alive, but how well you end the story makes or breaks the possibility of an ongoing relationship with your readers.
End well, and readers will fall in love with your writing, but if your ending falls flat, it's goodbye forever.
Did I mention that writing is not for the faint of heart? Courage. 
Today's article marks our last installment in the How to Write a Novel to the End series.
How to Write a Novel Ending Readers Will Love
When you think about it, if the end of a novel came all tied up with a bow, it would probably bore you, not to mention your readers.  From that perspective, it becomes possible to embrace writing a compelling ending for your novel as an interesting challenge.
I've given my best tips on writing the climactic scene of a novel as an installment in my Plotting a Novel in Three Acts series. Today we'll look at the elements that go into the end of a  novel.

Elements of a Novel Ending
No new information can be introduced that wasn't hinted at before or you'll cheat (and infuriate) your reader. At this point you should be tying up story threads in a logical and believable manner rather than introducing more.
Your hero or heroine confronts a worthy antagonist that had been previously impossible to defeat, but with the advantage gained during the

epiphany

.
Conflict resolves in a satisfying outcome that most popularly benefits your protagonist.
Your main character learns a vital life lesson that brings about lasting change. Note: this should not be a pat or smarmy transformation.
Flashbacks will only slow your pacing, so avoid them here. Action and dialogue carry the weight of the story now.
Don't stop the action for characters to go into long explanations. Some exposition may be needed in the closing scene, but its better to tie up story threads in a more organic fashion. If you can't, then the story either needs reworking or you should study how to show, not tell in fiction writing.
A reader's experience of your novel should cross into transcendence. Have you ever read a novel where you forgot your were reading? That's what you are going for here. How to attain this in your novel involves tapping universal emotions and

fully imagining your story world

. If you can pull this off, you will have gained a reader.
I'll be going into what it takes to write a novel that lives in my new podcasting series. I hope you'll join me.
©2014 by Janalyn Voigt
Claim your free copy of How to Edit: Checklists and Guidance for Fiction Writers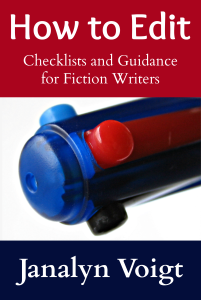 Have something to say? The comment link is at the top of the post below the title.