Your Writing Questions Answered
Writing Question of the Week
What has improved your writing the most?
Answer from Janalyn Voigt
In a word, time.
There's no substitute for the intuitive learning that came as I wrote and rewrote, gave and received critiques, and read well-written books. That happened as I worked over time toward becoming a better writer.
I also studied the craft of writing formally through Christian Writers Guild, and in a seminar under Susan May Warren and Chip MacGregor. I also have learned informally from books for writers. Both ways of learning proved important to my growth. Reaching my current writing level took time, but improving as a writer is an ongoing process that will continue to require an investment of my time.
Improving your writing is an ongoing process.
No writer ever "arrives," needing to learn nothing more. Writing is subjective, with perfection as a debatable term, anyway. But that's good news that reminds us to learn and keeps us humble.
Being in a hurry seems to be ingrained in writers, especially those at the beginning of their careers. If I've described your own feeling, know that the zeal will sustain you, provided you can corral the impatience it inevitably creates. The ability to write is a gift, but every gift comes with a responsibility to train it, and learning to master the craft of writing takes time. By definition, then, it also takes patience.
In a guest post for Wordserve Water Cooler, I liken the frustration with your craft as sitting down at a piano to play classical music only to plunk out chopsticks. This can be discouraging, but it's the price we pay to master the art of writing.
We can help the process along by being teachable. That doesn't mean you have to become a doormat and let others reshape your writing  into their own creation. There's a balance between guarding your voice and letting others help you. If you have trouble in this area, see Writing Critiques Versus Criticism.
Studying the craft of writing will help you grow more quickly as a writer. Adopting the discipline of a student will help you in other ways, too. One of my favorite quotes is by Mary Heaton Vorse, who said, "The art of writing is the art of applying the seat of the pants to the seat of the chair." Meeting the deadlines formal study demands will probably help you more than following your own learning schedule, unless you are highly motivated.
Another way to shorten your learning curve is to hire an editor to point out the flaws in your writing. This takes guts but pays off. While input from a critique group can be invaluable, but if the other members are evenly matched with you or at a lower level, you will all be without advanced input. Joining a critique group of accomplished writers is the ideal but may not be attainable. Hiring a skilled editor  can definitely save you time. I provide resources for finding a good editor in my free download, How to Edit: Checklists and Guidance for Fiction Writers.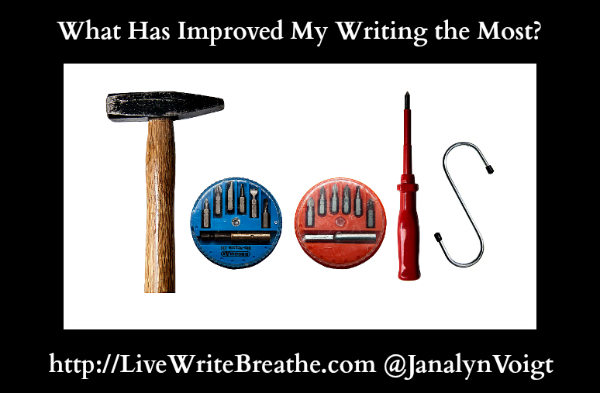 Have something to say? Don't be shy. You won't have to fill out captcha, I promise. The comment link is at the top of the post below the title. 
©2014 by Janalyn Voigt
Claim your free copy of How to Edit: Checklists and Guidance for Fiction Writers