It's hard to imagine that a book about, yes, fonts could be anything but anti-insomnia material. But Just My Type by Simon Garfield is anything but dry. In fact, fonts and the people who love them are part of an amazing world.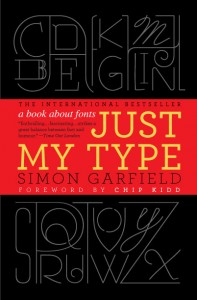 With sometimes-irreverent humor, Garfield introduces the reader to type-design legends of yesteryear and its stars of today. Mostly men, these artists sometimes exhibited quirky or even criminal behavior. The reader learns such fascinating trivia as why the "T" in "The Beatles" dropped below the other letters, how a font helped win a presidential election, and how one store set off public outrage when it changed its signature font. With plenty of behind-the-scenes tidbits, this book details the history and usage of numerous fonts. The author even includes his picks for "the worst fonts in the world."
Besides its entertainment value, this book gives the reader a good idea of which fonts to use (and which to avoid) for a variety of applications. It also impresses on the mind the branding power of fonts. This is an area where many self-published authors get into trouble, so paying attention to the author's explanations of how fonts work should help.
I recommend Just My Type by Simon Garfield to writers. Revelations about a certain designer's unsavory sex life, while not handled with distaste, limit this book to adult readers.
About the Author
Simon Garfield is the author of twelve acclaimed books of non-fiction including Mauve, the Error World and The Nation's Favourite. His edited diaries for the Mass Observation Archive — Our Hidden Lives, We Are At War and Private Battles — provided unique insights into the Second World War and its aftermath, and his study of AIDs in Britain, The End of Innocence, won the Somerset Maugham Prize. He lives in London and St Ives, Cornwall. He currently has a soft spot for Mr.s Eaves and HT Gelateria (both fonts).
Reviewed by Janalyn Voigt, author of DawnSinger.
Purchase Just My Type.