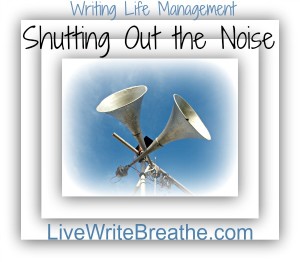 It's difficult, if not downright impossible, to keep on top of all the information and conversations directed to me in this social networking world. Just opening my email splits my focus in a variety of ways, if I let it.
Ah, there's the key. It might feel comforting to step into a victim's role, but the truth is, while I can't completely control my environment, I am in charge of my response to it. In other words, if all those virtual people talking at once in my office deafen me, I have only to shut the unwelcome guests into their own "rooms" (files), where they will abide in contentment until I remember them.
Social networking can splinter my attention, too. That is, if I let it. No one can possibly keep up with every opportunity for networking nowadays. Accepting my limitations frees me to do what I can in the time I have. When it comes right down to it, that's all any of us can do.
Writing-related tasks can overwhelm me, if allowed, but focusing on them one at a time helps me achieve more and stress less. Having a schedule helps me silence the voices of the other tasks when they clamor like children for my attention. Their turn will come, but not before its time.
Shutting out the noise helps me think, create and breathe. It helps me find the time I need to simply be.