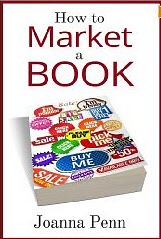 Joanna Penn is one of those people you'd like to put in your pocket. She's charming, amusing, and interesting, but more than that, she truly cares about other writers. Her awesome site, The Creative Penn, is a treat to visit, and I return often. Joanna is an indy author with a keen grasp on the publishing industry and how to succeed as a writer. Her own rise from obscurity is proof enough to validate her as an expert, but she expends time and energy improving her knowledge.
Joanna's recent release, How to Market a Book, is an example of the riches she brings to the table. She gives practical, motivational, and inspirational advice that if applied, will have a positive impact on your marketing efforts. She goes beyond the marketing of a single title to focus on how to build a writing career. The Kindle version has a plethora of links to follow for a full-immersion experience.  As I read, I highlighted things to come back to on my second pass, and there will be a second pass.
You'll learn how to build an effective platform, establish yourself in social media, discover and connect with your audience, launch a book, identify and develop money-making opportunities, and create focused goals that will help you construct the writing career that is right for you.
Don't miss this book.
The e-book and paperback are available at Amazon. There's also a premium package that offers:
fully-formatted PDF
Mobi (for Kindle) and ePub (for other readers) versions

100 minutes of audio on the top questions writers ask Joanna about marketing

Monthly instructional audios
Access to ask questions to be answered in the monthly audios.
Joanna Penn is someone I personally follow. She knows the topic of marketing well.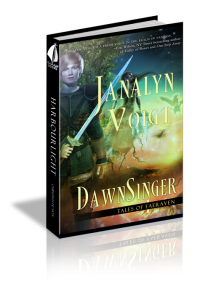 Need a good book to read?
DawnSinger, Tales of Faeraven #1 by Janalyn Voigt
A headstrong young princess and the guardian sworn to protect her fly on winged horses to the Gate of Life above the Well of Light in a desperate bid to release the DawnKing, and the salvation he offers, into a divided land. Will they each learn in time that sometimes victory comes only through surrender?
Purchase DawnSinger today!
©2013 by Janalyn Voigt
Subscribe to the Creative Worlds of Janalyn Voigt and receive a free copy of How to Edit: Checklists and Guidance for Fiction Writers