Question of the Week:
How Do You Name the Characters in  Your Books?
This question is from April Lee on Quora.
How to Name Characters from Janalyn Voigt:
April, you've asked a question I receive a lot. It's hard for me sometimes to pin down how I do things, since so many of them are intuitive, however, I did employ several naming techniques in Tales of Faeraven, my epic fantasy series.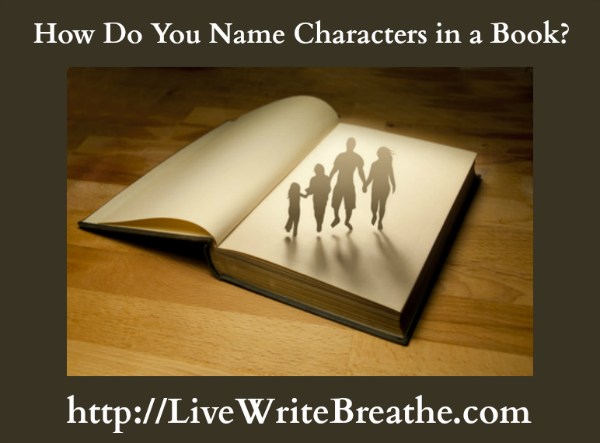 Here's how to name characters in a book:
Pull names out of the air.  This might seem unfair to mention, but it's how I come up with some beautiful names. Syl Marinda, the heroine of DawnKing, book three of my trilogy, received her name when I renamed my daughter's doll while telling her the story that turned into my series.
Pick a meaning for the name, and then ask myself what sounds might represent it. This is how I arrived at many of the wingabeast (winged horse) names in DawnSinger and

Wayfarer

. Interestingly, doing this exercise highlighted for me a limitation of English. We don't have words for many of the types of wind, for instance, but must always add an adverb to the noun 'wind.' For example, there is no word in English for 'rushing wind.' I called the wingabeast whose name represented this concept Ruescht.
Assign an ethnic group to a people in my world and research the names in that linguistic group. It's not as scientific as I make it sound here. I just happened to notice that the dialect of the Elder nation was trending toward Gaelic, so I went with it. And the Kindren names I was creating sounded  Saxon/Germanic.  You could plan this more than I did quite easily. I would decide the meaning for a character's name and look it up in an English-to-Old German dictionary, for example. Sometimes I could use names in their original forms, but often I would have to twist them into something more palatable for a modern audience.
Develop naming styles. A female name might end in 'a,' and a male name in 'con' or 'ric.'  Then it was simply a matter of finding a syllable to begin the name or trying syllables I liked with different endings.
Avoid similar names. This started to get tough, since with three books containing what amounts to an ensemble cast, I went through a lot of names. Especially in epic stories like mine, it's important to avoid names that are too similar so you don't confuse the reader. Really, it's enough to ask them to keep your cast of characters straight without creating difficulties.
I hope this helps you come up with some awesome names for your own characters!
If you use a different process from the ones I've named, I'd appreciate hearing about it. Please leave a comment. You'll find the comment link at the top below the title of this post.
©2014 by Janalyn Voigt
Claim your free copy of How to Edit: Checklists and Guidance for Fiction Writers