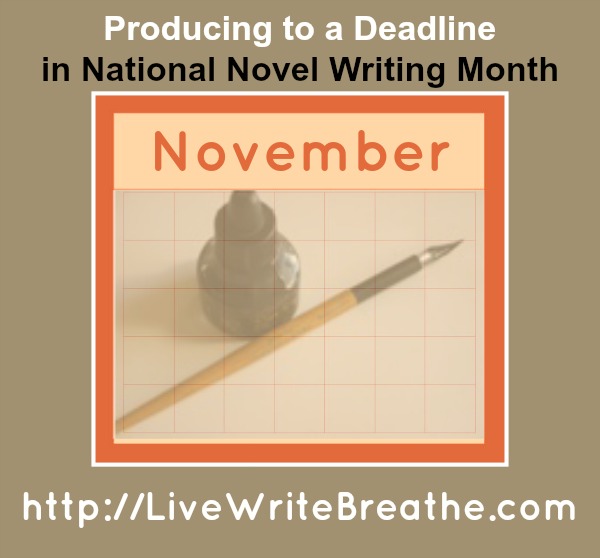 This month I am participating in National Novel Writing Month (Nanowrimo) and doing my best to write 50,000 words of a new novel in the month of November. If you don't know about this annual challenge for writers, you should. It's called a competition, but you don't compete with anyone but yourself. I find it helpful in creating first drafts I can come back to and edit later. It also helps me boost productivity. This year I'm hoping to "win" because those who do can receive a 50% discount on Scrivener, a software program for writers I plan to purchase anyway.
If you haven't already started Nanowrimo this year, it's probably too late, but you can plan to join in next year, plus there are plenty of wrimos in other months. Junowrimo, one of the best, issues a similar challenge to writers in the saner month of June.
One word of caution: even when you're pushing to produce to a deadline, the caliber of your story still matters. Yes, you can add descriptions and fix sentences and word choices later, but if you don't have a decent story in place, no amount of window dressing will pretty it up.
Spend the time beforehand to understand all your characters' greatest desires (which becomes their motivation) and deepest fears (to create obstacles for them). Be sure to sketch out a plot for your novel before you start, even if you are normally a pantser. As a hybrid plotter-pantser I've developed a system that helps me structure my stories without writing them before I write them. If that sounds like something that can help you, check out my post entitled Plotting by the Numbers. If you need help with story structure, read Plotting a Novel in Three Acts and all the related posts.
Some people criticize wrimos because some who enter think 50,000 words of a rough draft constitutes a novel worth publishing. That's most likely not the case. Setting the first draft of a manuscript aside to edit later is always a wise choice. For handy checklists that will help you with the editing process, Claim Your Free Copy of How to Edit: Checklists and Guidance for Fiction Writers. 
Another thing that can happen with a wrimo is that you fail to meet the deadline. My advice is to take writing 50,000 words of a novel in a single month with a grain of salt. Sometimes you win, but with virtually no time margin for a month straight, life can easily interrupt. If you make your full quota, that's great, but if not, you will still have come out ahead.  Be comfortable defining your own success.
If you are also involved in Nanowrimo and would like to be my buddy, I'm Nalynja at the Nanowrimo website. Be sure to let me know in the comments or email me so I can add you back. Happy writing, and when you need a small mental break, watch the video below. It's one of my favorites.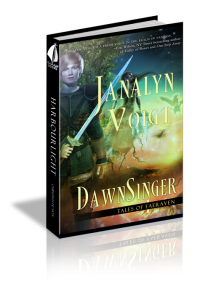 Need a good book to read?
DawnSinger, Tales of Faeraven #1 by Janalyn Voigt
A headstrong young princess and the guardian sworn to protect her fly on winged horses to the Gate of Life above the Well of Light in a desperate bid to release the DawnKing, and the salvation he offers, into a divided land. Will they each learn in time that sometimes victory comes only through surrender?
Purchase DawnSinger today!
©2013 by Janalyn Voigt
Subscribe to the Creative Worlds of Janalyn Voigt and receive a free copy of How to Edit: Checklists and Guidance for Fiction Writers