Have you ever pictured what living a perfect life would look like for you as a writer? Perhaps you would exercise regularly, eat right, take time for hobbies, engage in recreational activities, travel, complete your household duties, keep up with family responsibilities, and ace your job — all while having plenty of time to write.
The divide between what you want and your actual lifestyle is never more apparent than at the beginning of the year. There's something about turning that calendar with a fresh new outlook that gives all of us a boost toward attaining our dream lives. That's why we devise New Year's resolutions to lose weight, exercise, and you name it. The writing version of that can look like a push to increase the number of novels you write this year or simply to finish the first one.
You start with the best of intentions every new day but time escapes you, distractions waltz by, or you rebel against your own schedule. Overcommitting your time is a common mistake. I know about this firsthand, let me tell you. It's no fun to stay up past your bedtime when you want to sleep in order to meet a deadline.
A better plan is to give yourself room to breathe within a schedule that flexes to fit your lifestyle. Now, I am not an organizational expert and I don't mean to give specific advice. I'm a writer like you who, in an attempt to make my schedule sane, has come up with a time management system that works for me. I provide this information for educational and entertainment purposes and in the hope it inspires you to develop your own system to capture the lifestyle of your dreams.
Schedule Your Time in 4 Simple Steps
Saying that I have a schedule is something of a misnomer. I actually switch between two. I use them to help me cope with life and increase my productivity, no matter what my circumstances and mental state. Translation: sometimes I am able to focus fully, and other times I'm not.
Emergency Schedule
Sickness, exhaustion, or some sort of disruption intrudes and my careful plans go sideways. At such times, I accept that my productivity will be lower, and I keep my schedule simple, with fewer tasks to switch between. This is a good time to work on less brain-consuming things, like blog posts, research, or marketing activities that sap my attention when all circuits are firing. I usually make a simple grid with the bare minimum of tasks per category as listed below. My focus is less on accomplishments than on having at least something to show for my time.
Daily Schedule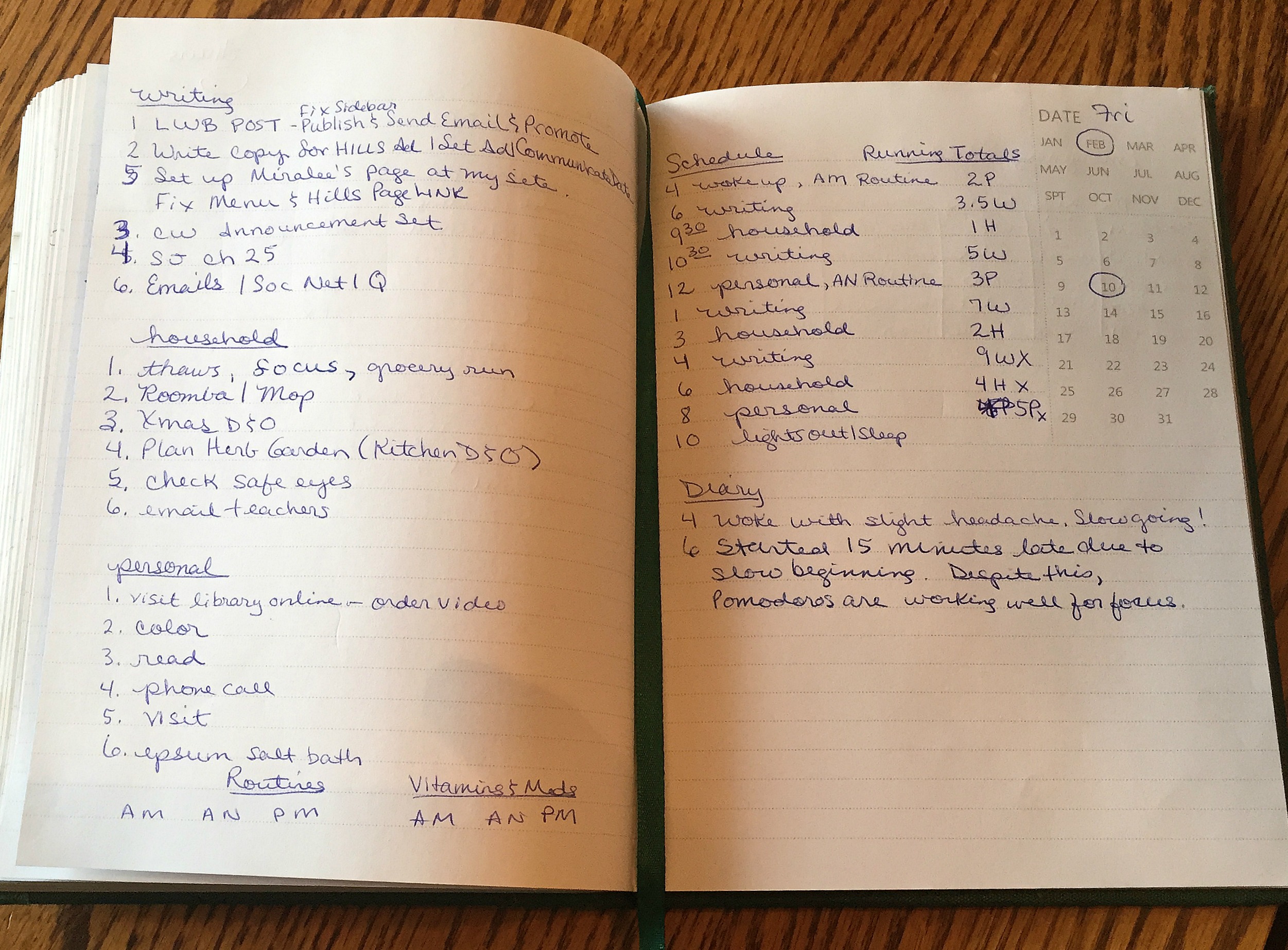 I use two pages in a blank planning diary per day. On the left side, I write my basic priorities (apart from sleep) as headers with the tasks I plan to accomplish under each one. The right page is where I mark out my day by assigning a basic priority to each chunk of time in my day. During the time slots for each basic priority, I perform the numbered tasks listed under the category headings on the left. Once a time slot ends, I stop working on that category until the next session designated for it. At the end of the day, I circle any unfinished items and move them into the schedule for another day (usually the next one). I also include a diary in the right page. (See more on that under the Diary and Notes headings, below.)
Step 1: Define Your Basic Priorities
Here's where the flexibility factor comes in. I divide my day into four basic priorities: sleep, personal time, household activities, and writing. If you have a day job, you'll have another basic priority, and there may be other priorities I haven't mention that you want to include. These differ from categories because they are broader. They are like the roof over a house, and your categories are the rooms inside.
Understanding your basic priorities is important because knowing them can help you attain a balanced life. When you group categories under them, you can tell if you are committing proportionate amounts of time to all of them or if any are dominating. Because I usually work on weekdays and take weekends off, it makes sense to try to balance my basic priorities weekly rather than daily.
Example
Here's how this works out in my schedule. First, let's look at the equation to create the evenly balanced schedule I want: 6 hours x 7 days = 42 hours every week for each basic priority. I function well with six hours of sleep at night, but if you need more or want to vary the time you spend on any other basic priority, you would adjust your weekly totals to reflect that. Since I want weekends off, my writing business needs to take eight hours of every weekday, with two additional hours inserted somewhere to equal the forty-two. Added together, sleep and writing take up fourteen hours out of every twenty-four. I divide the ten hours remaining between household chores and personal time to come up with five hours each.
My weekend schedule differs. With the writing hours finished for the week, I can spend time on household duties, my family, and personal pasttimes. Assuming I nipped the extra two hours for my writing from my personal and household basic priorities, I will have given each of them twenty-four hours. Here's the math: 42 hours per week – 24 hours spent = 18 remaining hours. Over the weekend, I try to ensure I spend equal amounts of time on household duties and personal activities. It rarely works out so mathematically because I'm a human and not a robot, but knowing the numbers helps me prioritize better. I have to watch myself. If I'm not careful, I'll emphasize my household responsibilities on the weekend and give short shrift to personal care.
Step 2: Know Your Categories
When I'm able to focus more I abandon my emergency system and itemize my writing tasks and other goals to accomplish that day. I think in categories, so it's natural for me to use them when organizing my time. I write relevent tasks in a column under each category. Although I list them vertically in columns, prioritized by importance, I work through them horizontally in rows. I've learned over time that I'm only capable of completing between three to six rows, depending on how much time I expect the tasks to take.
We'll go through these one at a time, but first I should point out that my categories include everything (not just writing). I explain why I concentrate on my whole life when planning my writing goals in "Can't Keep Up with Your Writing Life? Try This…".
Self-Care
I have an annoying tendency to forget about my health and grooming while on a deadline. Neither is acceptable. It's important to take care of yourself and include breaks for activities you enjoy doing. For me, those items are having coffee or tea with my husband, coloring or drawing, reading someone else's book, gardening, walking, going to the library or bookstore, making lists of some sort (don't judge me), organizing my home, or chatting with friends or family on the phone. Self-care comes under the personal time basic priority.
Children
Another category belongs to each child in my household. On days when I don't have as much to do for them, I lump them into one category. Tasks might include helping with homework, spending time with them, running errands with them, making doctor or dentist appointments, assigning chores, or sending them to bed. The children category comes under the household and personal time basic priority, depending on the activity.
Marriage
I don't usually include this category during the weekdays, but when I have to work weekends for an extended period, it crops up on my list to remind me to be fully present for my spouse. The activities I list might be shopping together, going for a walk, watching a movie together, or taking time to visit. Marriage comes under the personal time basic priority.
Pets and Plants
Living creatures who depend on my care need me to remember them, even when I'm lost in a story or on a deadline. In this category, I list things like caring for potted plants, feeding the cat, and walking the dog. Caring for pets and plants comes under the household basic priority.
Household Chores
My home duties can easily fill all my days, so I limit them to adhere to the time I allot for them. This varies with my schedule. When deadlines loom, my family steps in to deal with more of these. When I'm more available, I reciprocate by shouldering more. Chores include menu making, grocery shopping, home office duties, decluttering and organizing, holiday or guest preparations, and the normal spate of cooking and cleaning. Household chores comes under the household basic priority.
Writing Business
At last we come to writing. In this category I list my writing assignments for the day, including each project I'm currently working on. They are always at different stages of development. I will assign myself goals for writing, publisher's edits, self-editing, indie production tasks (like cover design or formatting), research, promotional activities, and marketing. Writing comes under the writing business basic priority.
Special Projects
I don't do this often because the more categories I have, the harder it becomes to complete them all, but when planning something special like a vacation or family occasion, I add another category to the list.
Breaks
This oh, so important category is on every list I make. I believe in taking time to live. Otherwise, why be here?
Routines
I deal quickly with mundane activities like doing the dishes, taking vitamins, or switching laundry by adding them to routines that I perform in the morning, afternoon, and evening. I tackle these during my personal time following the three main meals of the day. I keep my routines in a scheduling binder with other lists and templates. In my daily planner, I write my routines as AM (morning), AN (afternoon), and PM (evening) and check them off when completed. Here's what they look like:
My morning routine consists of eating breakfast, devotional and prayer time, personal grooming, starting a load of laundry, taking vitamins and medications, going for a walk, and other repetitive items.
The afternoon routine involves emptying my robot vacuum, swish-mopping the floor, doing a load of dishes, taking out the trash, and switching the laundry from the washer to the dryer.
The evening routine is where I cook dinner if it's my turn or else do dinner dishes. I also empty the dryer and fold the clothing during this time.
Medications, Vitamins, and Health Routines
Remembering to take care of your health is difficult unless you have a plan. Including them in my daily planner helps me keep track of them, even when I'm rushed. I mark these in the same way as routines with AM (morning), AN (afternoon), and PM (evening). I include these items in my routines, so checking them is less about initiating them and more about recording that I took care of them.
Step 3: Assign Daily Focuses
For every basic priority, I assign a daily focus. These are areas I need to spotlight, but not every day. I don't always get to them, but giving them specific days makes me more likely to work on them.
Example
Note: An upright line indicates that the next focus on a line belongs in a subsequent week. For example, on Mondays I concentrate on education one week, conference tasks the next.
Writing Focus Tasks
Monday: Education | Conferences
Tuesday: Book Promotion
Wednesday: Graphics Production | Book Production | Design | Videos
Thursday: Author Platform | Live Write Breathe Growth
Friday: My Author Website | Live Write Breathe Website
Saturday: Plan Research Trips | Make Retreat Plans
Sunday: Office Design, Decluttering, and Organizing
Household Focus Tasks
Monday: Homeschool Planning
Tuesday: Homesteading Lifestyle Goals | Garden Planning
Wednesday: Home Decluttering and Organizing
Thursday: Meal Planning | Potted Plant Care | Household Desk Work | Mending Requests
Friday: Clean House
Saturday: Run Errands and Gardening | Household Maintenance and Gardening
Sunday: Stay at Home | Visit Friends and Family | Go on an Outing | Plan Vacations
Personal Focus Tasks
Monday: Crafts
Tuesday: Library or Bookstore
Wednesday: Read for Pleasure
Thursday: Draw
Friday: Visit with Family
Saturday: Self-care
Sunday: Video with Husband or Whole Family
Step 4: Review Your Progress
Diary
It's one thing to project how you will spend your time and another to keep to the schedule you plan. Life happens, and you have to adjust. I record how I really spend my time in a running diary below my projected schedule. I note any hindrances that prevented me from adhering to my schedule. In the past week, to give you an example, I dealt with a power outage, the inability to focus, and a headache. Knowing what stops me from attaining my daily goals helps me take steps to avoid future problems.
Notes
If upon reviewing my diary, I discover a solution for a hindrance, I write it in a notes section at the back of my planner. After I lost time due to a power outage, I entered a note that we need to install a generator.
Final Thoughts From Janalyn
I've learned that pairing writing breaks with a mindless task like folding laundry, doing dishes, or taking out the trash keeps me from losing the thread of my story. I also need these breaks for my mind to rest.
While relaxed, the perfect solution to a plot problem often presents itself. A clever turn of phrase I would never have thought of otherwise pops into my head. Taking periodic breaks is essential to avoid developing deep vein thrombosis from prolonged sitting. Whether or not you wind up with that illness, it's simply not healthy to remain seated while staring at a computer screen for that long a time. That's one reason I use dictation, so I can record my stories somewhere other than in front of a computer. In fact, I dictated this blog post while lying down resting.
I hope I've given you some ideas from the way I organize my schedule to help you find solutions of your own. Let me know if you have any questions or comments on what I do. I love hearing from you!