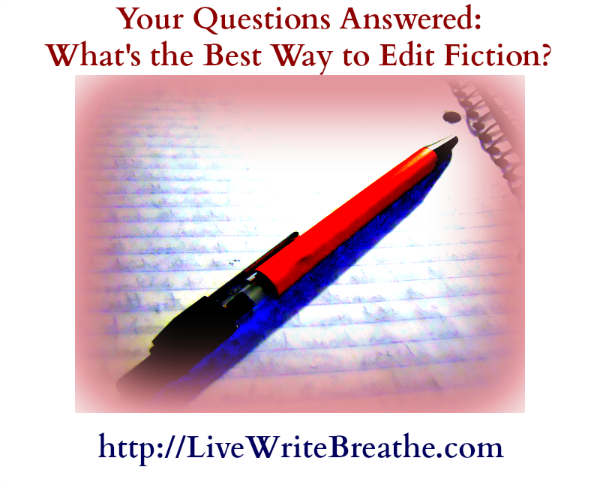 Self-editing is a non-negotiable essential. That goes without saying for most writers, and yet agents often report receiving submissions that are poorly-written first drafts in dire need of editing. It's not hard to understand why writers might want to skip editing their manuscripts. Beginning writers don't know what they don't know, which can make self-editing frustrating. Even the more advanced find it hard to see the flaws in their own manuscripts.
This is why it's important to have the help of a critique group and/or editor prior to submitting your writing. You can gain valuable insights into the strengths and weaknesses of your writing. Having said that, I must add that riding upon the skills of others can prevent your own from growing. It's professional and just plain courteous to submit writing that is as clean as possible.
Catching your mistakes before anyone else draws them to your attention helps you avoid repeating them. Self-editing your manuscript also can result in more of it being cast in your own voice. Those who sign with a publishing house lose at least a portion of control over the editing process. Even writers who have yet to land a contract or who are self-published can become confused by input from beta readers or critique partners. It's far better to work out as many of the kinks in your story while the story belongs to you alone.
My Editing Process
I work from a plot outline that saves me from such editing headaches as moving scenes around, cutting large passages, or filling plot holes. I am a hybrid plotter/pantser, meaning that I adhere to a bare-bones plot structure that prevents me from straying from my story's course but allows me the freedom to create on the fly.
While writing the first draft I go back over what I wrote at my previous session. This puts me back into the story and saves time during the editing phase.
Once a manuscript is complete in first draft, I let it rest before editing. Picking out mistakes is much easier with a cold manuscript.
During the first pass, I do a content (substantive) edit. I check that the pacing works, all logic makes sense, characters are believable, and that I haven't overlooked any characters or missed tying up any threads.
The second step is to give my manuscript a technical edit. This is where I concern myself with the accuracy of settings, historical facts I have yet to verify, information about specific professions, and other such details. I always check more than one source and take care when verifying facts on the Internet, where misinformation can be posted and reposted. With historical research in particular, I try to find original sources.
The process of copyediting focuses my attention on punctuation, usage, grammar and style. This can be tedious work, but doing it well is important.
By the time you've combed through your manuscript using content editing, technical editing and copyediting techniques, you may wonder how there can possibly be anything left to fix. And yet, if you've ever read a published novel with sentences containing missing words, misspellings, duplications, typos and the like, you understand that errors can slip past the keenest of eyes.
If you plan to submit your work to an agent or editor you'll want to ensure you've done all you can to present a professional manuscript. It would be a shame to win the editing battle but lose the submission war with a manuscript that reflects poorly on your attention to detail.
Proofreading is also vital to self-publishers. While some readers take mistakes in stride, others will abandon a book because of them. At best, errors throw the reader out of the story and make it harder to engage.
To make sure your novel is all it can be, as a final step, I recommend using the services of a qualified editor knowledgeable about editing fiction for publication.
I hope you find my comment helpful. If it's of interest, I provide checklists for each type of editing I've mentioned in a free PDF at my website for writers:http://LiveWriteBreathe.com.