I do things all wrong, according to popular notions about how to write. For one thing, I'm at peace with my inner editor and don't feel the need to turn her off while writing. On the contrary, she has saved me more than once from rewriting scenes that without her guidance would have gone astray. The idea of turning my inner artist loose like a kid in a candy shop would produce for me the equivalent of a literary stomach ache. Frankly, I don't want to clean up the mess that would make.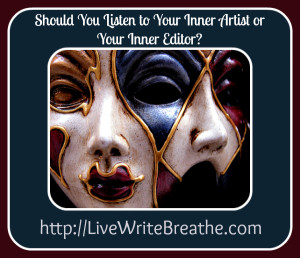 Don't think my inner editor stands over me like a martinet slapping a whip against her leg. She's more a concerned friend willing to look away when I let a misspelling stand for now or gloss over an under-researched point. She picks her battles. When changes won't impede my progress, she lets me go on without remark but intervenes when I take a serious left turn.
I write more slowly because I include my inner editor in the process, but I edit more quickly. This works best for me because I prefer creating a fresh draft to editing any day. I write in the morning and edit after lunch. I've heard of writers who spew out words without thought and afterwards cut thousands of them. Despite popular opinion and sometimes-heated debate, none of these methods is "wrong."
We are all different. It would be foolish to expect what works for me to work for you, and vice versa. Live and let live, but if you don't already know, do figure out what works for you. That comes by a process of trial-and-error. Here are my tips to aid your self-discovery.
What time of the day are you most alert? Create during these times.
When do you fidget and need to get away from the computer? Don't schedule long writing sessions for these times.
Do you get a creepy, messy feeling when you start one chapter without editing what you've already written? Then I suggest you edit as you go.
Do you hang up on editing and never get past the first pages of your book? In this case, I suggest you push yourself to finish a chapter at a time, and then possibly go back and edit once through only before moving to the next chapter. Or try to fly through the first draft completely before returning to edit. It may drive you crazy, but you'll move past your own mental barrier.
Do you need to feel "done" at the end of the day? I suggest you write and edit in the same day.

 
What about you? I'd love to know what works for you.