Writing
A sentence flutters by,
Elusive as a butterfly,
And I, imperfect net in hand,
Attempt its capture.
by Janalyn Voigt
Autumn leaves gather in colorful drifts as winter's chill breath whispers mysteries across the night. Deep nights inspire deeper thought, and writers conspire to create fiction in National Novel Writing Month, or Nanowrimo as it is popularly called. The yearly contest presents a challenge to participants. Can you and will you write 50,000 words in an original manuscript before the end of the month?
How to Write a Novel to the End: Surviving NanoWrimo
I'm among those who believe Nanowrimo can help a writer develop the discipline to complete a manuscript. In fact, this contest is how I came up with the first draft of DawnSinger and Wayfarer, books one and two in my Tales of Faeraven series.
Don't expect your first draft to be perfect.
A first draft does not a novel make, which is why both my Nano novels have seen revisions guided by gifted editors in order to bring it to publishable quality.  Every year when National Novel Writing Month draws to an end, I can almost hear a collective groan from publishing quarters in anticipation of the proposals or first drafts hitting inboxes.
Don't do this. For one thing, to stand out, its better to submit at a less popular time of year. For another, it's always best to set your manuscript aside for a while, then come back to it with fresh eyes. It takes a certain distance to notice and correct its flaws.
This is good news, as it turns out.
Foster your creativity and save revision for later.
There's a certain freedom in not expecting your first draft to be perfect. You can play a little, try things out, and revise later. Creativity thrives under such conditions, if allowed.
If you've been writing for any length of time, you will probably have heard the advice to turn your inner editor off and just have fun with your first draft. There's a certain amount of value to the idea, so I don't want to dismiss it entirely, but it never works for me. Editing as I write comes naturally for me, and I'm not at war with myself, so I never have to choose whether to listen to my inner artist or my inner editor. On the other hand, a month isn't much time to write a novel, and you do have to keep new words coming, so working on the old ones becomes less attractive as a result.
Keep your mind free, and if your plot turns the wrong direction, avert the problem.
My guage for when to edit and when to leave a problem passage for later is a simple one. If a problem affects the plot and will potentially cause me to spend hours writing words I may later have to cut, I fix it. If I see something that will only take a moment to correct and will weigh on my mind, I make the change then. If I'm afraid I'll miss something during the revision process or want to research something, I bold the passage. I developed this system while participating in my first Nanowrimo and have used it ever since.
Hydrate your body and nourish your mind.
I learned during my first Nanowrimo not to constantly drink tea, my go-to drink when writing. Besides causing wakefulness when I should have been sleeping, too much tea upset my stomach. A better choice is to always have a tall glass of water within reach.
Brain foods like small amounts of chocolate, whole grains, blueberries, pumpkin seeds, nuts, and sage can pull you through when your attention is flagging.
Walk around periodically.
One reason Nanowrimo is so effective is that our family members may support us in ways they wouldn't otherwise. Unfortunately, this can mean being allowed to sit at our computers for way longer than is healthy. It can help you in body, mind, and spirit is to get up regularly and walk around. If you have to, use an online timer to remind you to move.
If you don't win Nanowrimo
Winning Nanowrimo feels wonderful, even though you are just competing against the clock, and the sponsor offers winners receive, like 50% off Scrivener writing software, are nice. That's part of what makes it so disheartening when you discover you miscalculated your availability or life just plain intrudes, and you have to choose what you need to do over what you want to do.
My advice is to take writing 50,000 words of a novel in a single month with a grain of salt. Sometimes you win, but with virtually no time margin for a month straight, life can easily interrupt. If you make your full quota, that's great, but if not, you will still have come out ahead.  Be comfortable defining your own success.
Other Wrimos
The good news is that there are plenty of wrimos in other months. Junowrimo, one of the best, issues a similar challenge to writers in June.
I'm not sure I'll be able to participate in this year's Nanowrimo. If I do, it will be with a late start. However, I'll be checking in and can encourage you, so let me know if you would like to be my buddy, I'm Nalynja at the Nanowrimo website. Let me know, and I'll add you back.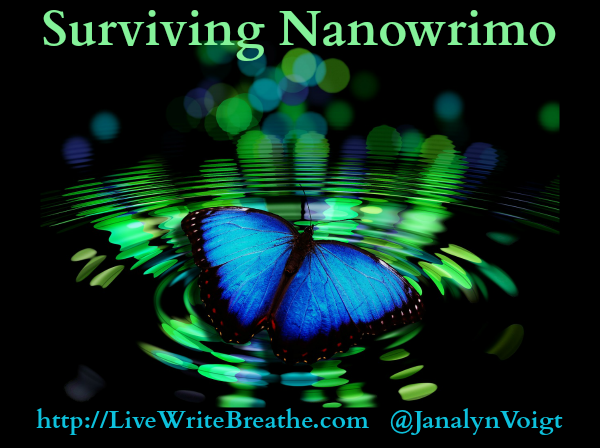 *Butterfly image courtesy of Geralt
Claim your free copy of How to Edit: Checklists and Guidance for Fiction Writers