Run!!!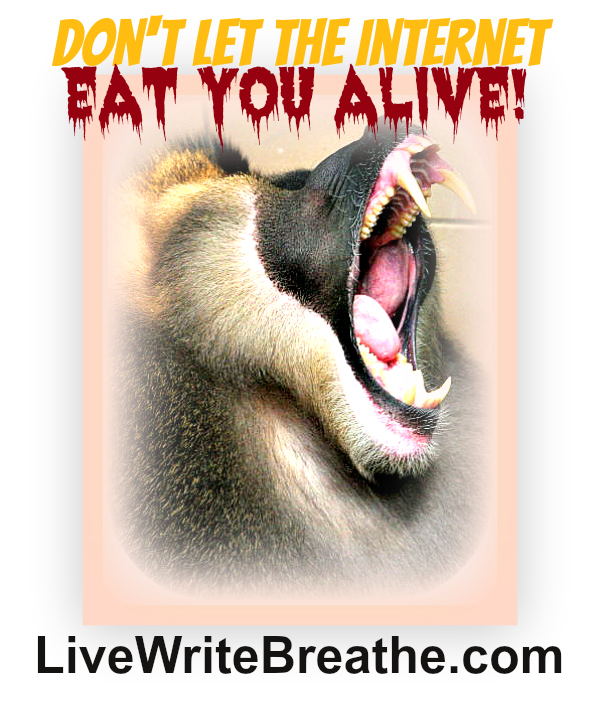 There's a monster that never rests but waits to pounce on the unwary at all hours of the night and day. This man-eater has a taste for flesh and shows no mercy as it rends its victims' lives with disfiguring claw marks. Like a wolf in sheep's clothing, this beasty disguises itself as an innocent lamb.
Don't let it sneak up on you. Here are my 5 tips for taming the marauding beasty called the Internet:
Develop a strategy. Draw up a written plan and refer to it often. Name specific purposes for your involvement with the Internet. Define realistic goals so you won't get sidetracked and walk into an ambush.
Isolate it. Don't sign up for every newsletter you'd enjoy. If you do, you'll waste hours deleting emails you have no time to read. Don't join a forum or other group until you've first counted the cost in terms of the time it will cost you.
Back it into a corner. Ignoring the Internet altogether usually isn't a viable option for writers nowadays. However, you can control where and when you turn on and tune in. Confine your Internet time within parameters. Stick to the limits you set. Some people go so far as to set an alarm clock or timer to help them know when enough is enough.
Lasso it. Get a rope around the Internet beasty's neck by having a grasp on what you need from your involvement with the Internet.
Banish it to darkness. Author Jeff Vandermeer describes in BOOKLIFE how he actually had his wife hide the modem in a different place each morning. Only when he'd finished writing for the day did he call her to find out that day's location.
Do whatever it takes, but don't let the Internet beasty consume you.