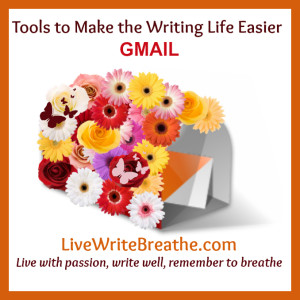 Google's gmail is an author-friendly tool I'm happy to have discovered. In this post I list some of its best capabilities.
Emails organized into threads help you better follow a conversation.
Filters that can pre-label, automatically trash, and send specific incoming emails to another email address.
Gmail+ method helps you or others pre-label emails. An example: lets say you have "Education" as a label and want to email an interesting post from a website to yourself. In the "To:" field of the website form, you would type YOUREMAILADDRESS+Education@gmail.com, and the email will show up in the Education folder as well as your Inbox.
Archive without deleting emails. Once archived, emails are out of your inbox but available in a search.
The multi-labeling ability means you can find an email in more than one folder.
Nesting labels helps you manage them.
Color-coordinated labels makes them easier to group.
Canned response capability saves time when you find yourself sending the same information over and over again.
Gadgets let you customize your gmail account.
The Tasks application helps you stay organized and will even import emails directly.
Google Calendar access tab. I find this calendar system an awesome help. I feed multiple calendars to my website to help others find me online.
Google Reader access tab.  A feed reader accessable in one click from my email account is a tremendous benefit. UPDATE: Google Reader has been replaced with Feedly.
Google Documents access tab. I use this feature to get files off my local computer. It's possible to share files through Google Documents.
The Pictures tab accesses my Picasa Web Albums.
Which of these features sounds interesting to you?