Mantled in the half-light, shadowed at its edges, a garden at dusk whispers mysteries. It is a place to walk, reflect, conspire, love, pray, and more. If you as a writer need to find inspiration, a garden is one of the best places to search. Let's go inside, shall we?
Visual Writing Prompts: Garden at Dusk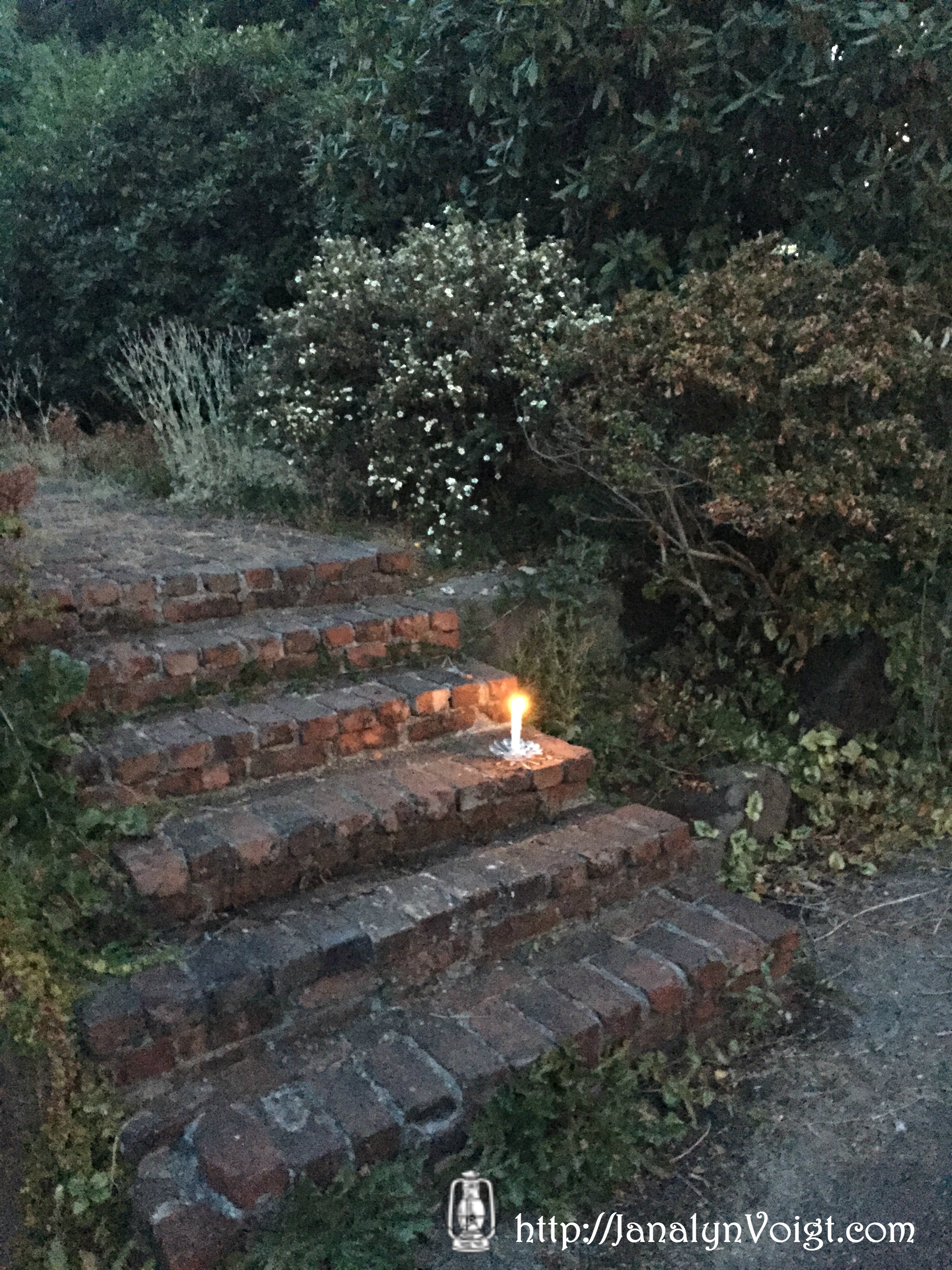 Imagine, if you will, that you are the main character of a novel. What is your story? While in a garden at nightfall, are you running, walking, strolling, riding a horse, on a motorcycle, or moving about by some other means? Where have you come from? Where are you going? What is your reason for entering this garden? Are you fleeing someone, hiding from a pursuer, waiting to ambush the unwary, or hurrying toward someone? Maybe you happened upon the garden and couldn't resist its lure.
Do you hear birds, crickets, water flowing, gusts of wind in the trees? Is it so dark you stumble or light enough to see the path. Do you carry a flashlight, candle, lantern, or are you using your cell phone's light to see by? Is the moon up yet? If so, is it full, gibbous, only a sliver, dark, or covered over by clouds? Is the weather cold, balmy, or hot as blazes?
Where is this garden? Is it attached to a house? If so, do the occupants peer unseeingly from the windows or shout in discovery upon sighting you? Are the owners absent and about to return? Maybe the house is vacant. What caused its lonely state? Maybe the garden surrounds a fallen-down house in the deep woods, and you stumbled upon it by accident.
Has a crime happened here? Or are you trying to prevent foul play? Are you in the hands of someone who means you harm? Maybe you discover love, rather than hate, here. Do you discover lovers kissing or quarreling? Are you rushing to embrace your true love?
Do you meet someone in this garden? Friend or foe? Why is the other person here? How do you meet? What results from your crossing paths?
Does this garden contain the door to a fantasy world or lie within a fantasy world? What creatures lurk in the shadows? Do you face dangers or are they following behind you? Is this the start of your adventure or a magic garden you've traveled by long journeys to find?
Do you hear the splash of water from a fountain? Can you see ribbons of water falling from it in the moonlight. Or maybe there's a stream at your feet? Is it swollen with springtime run-off or has the level fallen in the warmer months? Do you hear frogs drone or a fish jump? Is this garden at the edge of a lake? Is there a boat ramp you need to reach? Why?
Have you brought anything with you? Or do you intend to take something away?
What is the story you will tell? Listen to the sounds in the video, below while gazing at the picture and let the story write you.
What is your story? Let this writing prompt help you find it. Share what you discover in the comments. Write your story.