The Best Way to Build an Email List
Thanks for this great question about how to build an email list, Sandra Ardoin: I know we're supposed to have email lists, but I have few people who get my posts via email. Most come through WordPress and other areas. I don't feel comfortable adding people to a newsletter list or sending them emails for something other than my blog posts. So here's my question(s), Janalyn. How do you build that list other than through a sign-up sheet at book signings? I don't have a newsletter yet, but if I wanted to do one, what is the best way to add people and is it ethical to add those who have subscribed to the blog via email?
Answer from Janalyn Voigt
Sandy, first off, if you haven't already read my post, Should You Build an Author Mailing List? do that now, and then come back here.
Before I answer your main question, I want to clarify some things:
You don't need numbers to create an email list. Start where you are (even if that's zero) and build from there.
You don't need a newsletter to have an email list. You can send out blog posts only, like I do for my Live Write Breathe mailing list. You can put together a newsletter from blog posts and a private message for your subscribers, as I do for my Creative Worlds subscribers.  Or you can create a completely private newsletter for subscribers only.
It's unwise to build your website traffic through a third-party platform like WordPress, Blogspot, or Facebook.  What happens to your following if/when that platform closes up shop? It might seem unlikely, but that's what people thought about MySpace and Google Friend Connect. It's far better to manage your own list through a service like MailChimp *.
Now on to your main question:
Email subscribers have a different level of commitment from those who subscribe to a newsletter, much like the difference between dating and being engaged. The first does not necessarily lead to the second. It can, but it's best to let the individual blog reader make up his or her mind about whether to move into a deeper relationship with you through your newsletter.
Also, if you arbitrarily move people, some will unsubscribe and possibly complain about you, none of which will endear you to them or to your email list service or blog host, as the case may be.
Gaining more committed readers argues in favor of offering a newsletter over a blog, however blogs compensate for their casual nature by being more open to search engine traffic. While it's possible to archive a newsletter on your website, generally speaking, you won't receive the same advantage in search engine traffic as from a blog.
It all depends on what you want out of your site.
Numbers can be important, especially if you're aiming for a traditional book deal. However, they aren't everything. If you want to build a readership that will pull for you whenever you release a book, there's a lot to be said for intimate relationships with readers you genuinely care about and who care about you.  That's a little harder to maintain when the numbers get large.
As I've mentioned, I combine both tactics at my Creative Worlds site. I publish public posts there and at one of my book extras sections of the site, then put it all together in a newsletter with a private message to readers each week. This ensures that Creative Worlds receives traffic from search engines but also allows me to build intimacy with readers.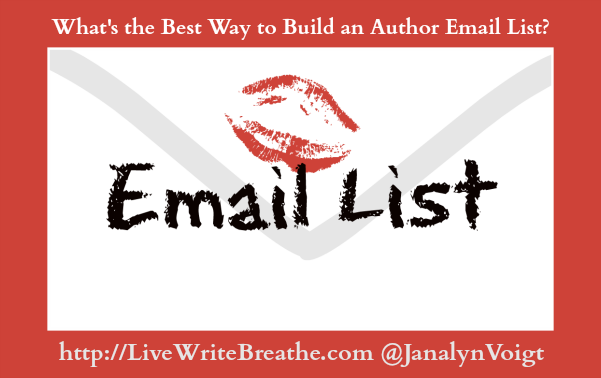 So, what is the best way to build an email list?
I have had success at getting people to sign up for my email list at speaking engagements.  I prefer to have subscribers opt in, rather than adding them in person. That way my email list management software (MailChimp) has a record that they voluntarily subscribed. When I add them myself, I click a box that verifies I have permission to add them, and I save the email sign-up sheets as proof. When people subscribe themselves, I can also use double opt-ins. That's where people confirm that they want to subscribe to my list. This keeps me out of trouble with anti-spam laws.
The best way to build an email list by far is to offer a giveaway in exchange for sign-up, and then promote that to your social networks. Your giveaway needs to be relevant so that you wind up with subscribers who want what you offer. Otherwise, people will just unsubscribe.
At Live Write Breathe, I offer a free PDF on How to Edit. At my Creative Worlds of Janalyn Voigt sites, I let users download three of my original images as computer wallpaper. That hasn't been the best sign-up magnet for that site, for reasons mentioned in the above paragraph (and learned the hard way). Since the main thing I offer at my author site is my books, I'm  working on a novella to replace it.
I hope this answers your questions, Sandy. If not, be sure and ask more.
Ask me a writing question!
If I use your question in this regular feature, I'll credit you for asking it and provide a back link to your site. Ask your question here.
*Disclosure: this is an affiliate link for a service I personally use and recommend.
Have something to say? The comment link is at the top of the post below the title.
©2014 by Janalyn Voigt
Claim your free copy of How to Edit: Checklists and Guidance for Fiction Writers