Write a Novel to the End: Where to Start Your Novel
You develop an idea around a central theme and story problem, plot your novel, defined your characters, schedule your book project, and delve into research. You have, in fact, done everything possible to ensure your book project is a success. Except…
What if you need more research? How will you know what you don't know? And your main character is still a little fuzzy. Shouldn't you do some pre-writing to clear that up? Also, you've worked out the 6 key scenes of your plot, but the climactic scene is as hazy as a distant island in a misty sea. Some of these questions can indicate a need for more prep work, but trust your instincts. If you have a sneaking suspicion you should be writing, follow that instinct.
Second-guessing myself like this usually tells me it's time to start writing. I know enough to begin, but until I've written the first draft of a novel, and then fully edited the manuscript, I won't have everything perfectly nailed.  And that's as it should be. Writing is nothing if not an adventure.
Once you've sorted out when to start writing, knowing where to start your novel is the next thing to get straight.
Where to Begin Your Novel
From the Beginning
At the outset of the story, the reader is treated to a slice of your main character's normal life. Women's fiction or a character study that focuses on an evolving character arc might do well with this type of starting point, but not always. It depends on the needs of the story. Your inciting incident, the place where the main character's normal life is irrevokably upset, can be more powerful when you allow your reader to bond with your main character first.
Because this type of beginning starts on a slow note it has fallen out of favor. However, I'm going to step onto my soapbox and counter the popular notion that today's reader needs action on page one. Tension, yes, but I firmly believe that action can come in a bit later if you hook the reader with an unanswered question.
Have you ever read a book where the protagonist went into immediate peril seconds after you learned his or her name? That can be effective if done well, but when it's not, the beginning can come off as confusing, boring, or even melodramatic. On the other hand, readers of a particular genre might be precondtioned to expect such a beginning and will reject a more protracted beginning.
An example of a story that is told chronologically from the beginning is David Copperfield by Charles Dickens (Affiliate Link).
At the Inciting Incident
Beginning at the place where your main character's life is irrevocably changed forever can help snag reader attention. However, making sure your reader connects with your protagonist can be problematic due to the speedy pacing. You also have to fill in your reader about your main character's normal life after it changes without dumping backstory.
An action adventure novel usually does well with this type of beginning, as an example. In some genres, opening with the inciting incident is expected.
In the Middle of the Story
This is a literary device known as in medias res, Latin for "in the middle of affairs." The story begins after the action begins, with much of the story revealed through flashbacks, introspection, and dialogue.  Despite the difficulties this creates, the technique is worth considering for its ability to immerse your reader in the flow of a story in full swing.
An example of this is Homer's Odyssey (Affiliate Link), which begins as Odysseus turns homeward after the fall of Troy.
At the End of the Story
A novel that opens at or near the story's end calls upon the reader's urge to know what happened. How did such an ordinary person wind up on death row? Why is the heroine weeping over a grave? Why is the hero gazing longingly at the woman he loves from the deck of a ship as it pulls away? Because of this dynamic, beginning at the end can be a compelling way to start a mystery novel.
The story can then be told chronologically from the opening of the storyline. Events can also be told out of order, although that technique can be challenging. The story can even unfold backwards, scene by scene. Reverse chronology is not used that often for entire novels, but one example is Time's Arrow by Martin Amos (Affiliate Link).
Final Thoughts
Where to start your novel ultimately depends on your interpretation of the story and the expectations within its genre. Reading within your novel's genre should alert you to established conventions. Whether or not you adhere to them is your option. However, it's a good idea when both your story and its market demand it.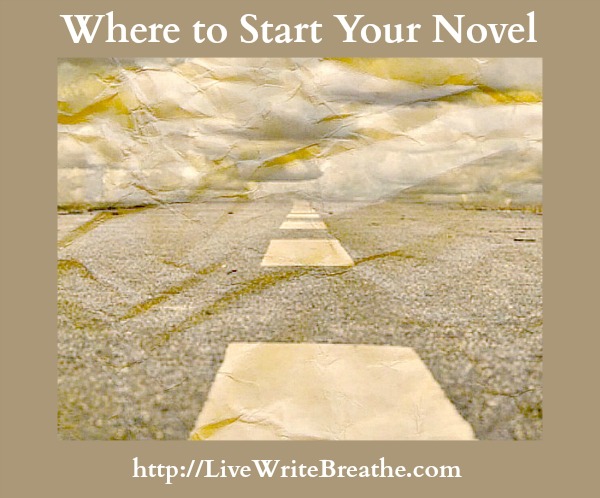 Have something to say? The comment link is at the top of the post below the title.
©2014 by Janalyn Voigt
*Janalyn Voigt benefits when products are purchased at Amazon.com through the affiliate links she provides. Using them is a way, at no additional cost, that you can support this site.
Claim your free copy of How to Edit: Checklists and Guidance for Fiction Writers