How do you write a novel in logical steps?
Janalyn Voigt:
Having the zeal to write a novel will carry you through a lot of bumps on the rocky road to completing it. The road you choose is an important factor that will either expedite the process or waste your time.  Set a logical course to leverage your time and accomplish your writing dream. Here are the steps I suggest:
Start with a theme.

 What will your story be about? What is the point it will prove? Some of the most powerful themes include redemption and reconciliation, but here's a list of 

101 Common Book Themes

.

Develop a story problem from your theme.

 When your main character's greatest desire is thwarted, the story problem arises. How will Scarlett find happiness, Frodo win freedom, or Cinderella escape cruel poverty and into the arms of her prince? For more on this, read 

How to Plot A Novel With A Central Theme and Story Problem

.

Create your story's characters and settings to enhance your theme and story problem. 

You can use contrast for emphasis, or affirm the mood of your story in a similar setting.

Construct a plot

 that will advance by stages to prove your theme. For more on plotting, read Plotting a Novel in Three Acts.

Make sure your main character changes

 in meaningful ways through the course of the story.

Map out areas of research

 for your book and schedule time to pursue them.

Carve time to write 

by reviewing your schedule to see what you can eliminate without neglecting important duties or relationships.

For best results, schedule an inviolate time you write each day. 

That's not an absolute, but it is a best practice. Some writers give themselves time or word-count goals. Some do both.

As you write, note additional research questions 

that occur to you. If they will effect the plot, you need to stop and answer them now. If they won't hinder the plot, make your best guess, bolding anything you need to verify later.

Read through your first draft while focusing on 'big-picture' issues. 

Does the story flow well, make sense, have unresolved loose ends?

Answer additional research questions 

and check any facts in the sentences you've bolded.

Read back through your manuscript, going over your punctuation, usage, and grammar. 

If you can afford it, turn your manuscript over to a professional editor to help you identify your weaknesses and blind spots.

 Provided you choose wisely, it's worth every penny. Failing that, ask the advice of experienced critique partners.

Consider carefully any edits your editor or critique partners call for.

 If they seem warranted, do them. When it comes to making revisions, I usually look for agreement. If more than one person tells me the same thing, it's probably advice I should take. At this stage, the decisions and the story are yours. Later, should you land an agent and/or a contract, you'll have to pick your battles and negotiate when you don't agree with edits.
Proofread your manuscript.

For more on self-editing, refer to

 

How to Edit: Checklists and Guidance for Fiction Writers

.
Best wishes for your success.
Have something to say? The comment link is at the top of the post below the title.
Email Janalyn Voigt with your writing question. If she uses it in a post, you'll receive credit and a backlink to your website. Anonymous questions are also accepted.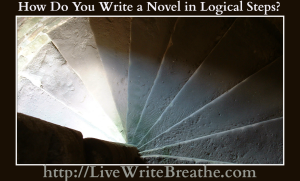 A question posted by an Anonymous user on
 Quora
 inspired this post.
©2014 by Janalyn Voigt
Claim your free copy of How to Edit: Checklists and Guidance for Fiction Writers