Writing a book can take much longer than you planned, which is why learning to write faster makes sense for most of us. If you are one of those writers who can reel off 10,000 words in a single sitting and still have time and the presence of mind to chat on Facebook, you can be dismissed now. The rest of us will take a look at a surprising technique for writing faster.
I wouldn't have tried this myself if I hadn't  overbooked my writing time. How this happened is a long story I won't bore you with, but I wound up needing to produce two books in about two months. I should state here that I did not consider myself a fast writer by any means and that completing one book in such a short time already challenged me, let alone coming up with two.
Did I succeed? Yes, and no. I completed the first drafts for Deceptive Tide (Islands of Intrigue: San Juans) and Hills of Nevermore (Montana Gold, book 1) in two months. However, I'm still editing them in the third month. The first was an indie novel, so I more or less controlled the deadline. The second is for a publisher able to allow me a bit more time for editing. Although I didn't meet my original (insane) goal of writing and editing both books in two months, they'll both be finished within three months.
So, how did I accomplish this writing feat?
Yes, I lost a little sleep, but not as much as you might think. If you're a regular subscriber, you know that my family took on some of the laundry, dishwashing, and cooking. (Hint: subscribers receive my bonus tips along with new post notifications.) Changing my mindset helped tremendously. I also adopted several productivity techniques out of sheer desperation. In this post, I reveal the first of the techniques I used to help me write faster.
How I Trained Myself to Write Faster
I installed a timer app on my iphone in order to schedule my writing in bursts of time with short breaks in between. The app allowed me to choose the duration, and after some experimentation, I discovered that 45-minute sessions gave me enough time to get up to speed while writing a scene but helped me avoid developing deep vein thrombosis from prolonged sitting. Fifteen-minute breaks worked well to give me a little time off but not so long that I lost my concentration. Timing my writing sessions increased my writing speed for a variety of reasons.
It called for a commitment, giving me the power of a single focus. With the timer going, I wasn't as likely to jump out of my chair and go raid the refrigerator, for instance.
Because I saved every other activity for the breaks between writing sessions, even folding the laundry felt like a reward.
Typically, I pondered the story during breaks, which made the next stretch of writing easier.
However, if I found myself struggling through a difficult scene, it helped me to know the timer would go off soon.
The timer helped me identify my writing speed, and that inspired me to write faster on slow days so I could meet my daily quota before bedtime. There's no better motivator than the prospect of having to remain awake and working long after you want to be asleep.
4 Writing Timers to Help You Write Faster
BeFocused app

for iPhone is the timer app I tried. It's user-friendly, customizable, and free. You can set the duration of your writing sessions and breaks and program the sounds you hear. There's even a chronometer, although hearing its ticking was too much for me. If you don't want to see advertisements, purchase the Pro version.
Stopwatch Timer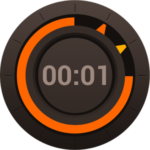 for android phones allows for preset times and is easy to use, according to reviews.  This app has multiple audio outputs and customizable colors.
Tick Tock Timer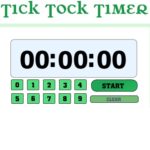 is a free online timer you can set for any length of time. I couldn't find a way to set the sound you hear, but if you don't mind a gong going off three times to alert you, this is a good option. Hitting the reset button shows you the original time you set, which simplifies things.
Write or Die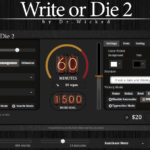 would work for you if you want an online timer that will give your self-discipline a little boost. If you stop writing for too long during a session you set, consequences will follow. Either an obnoxious warning will sound or, in Kamikaze mode, the words you've written disappear from the screen.  An IOS version of Write or Die is available.
Final Thoughts From Janalyn
If, like most writers, you are overworked and overwhelmed, learning to write faster can give your life back to you. However, it can also be a reason to overload yourself with even more to write. Think your priorities through and make sure you gain the right benefits from increasing your writing speed.