Writers Conference Etiquette
So now what?
You've plunked down your hard-earned cash to attend a writers conference because you've heard it's the thing to do. That's when it hits that you have little idea what to do at one or how to capture any of the opportunities you may find.
I well remember the sinking feeling in my stomach after I signed up for my first conference. Even now that I teach at writers conferences, I still experience nerves beforehand.
Preparing for a writers conference ahead of time lends you confidence and bolsters your courage. It can smooth the way for you and ultimately effect the outcome of your conference attendance.
What to Wear to a Conference
If you know anyone who has attended your conference in the past, ask what is appropriate. At most conferences attendees wear casual dress clothing. Nicer slacks, dressy shirts or blouses, and anything you might wear to attend a church service or office meeting are probably good bets. Ties, jackets, and heels are often optional. Tasteful use of accessories can make you look more professional. Unless there's a formal dinner or gala, semi-formal and formal wear are usually not needed.
However, always take a dress-up option in case you wind up going for a meal with an editor. Once at a conference another writer invited me out with her editor, so this can and does happen.
What to Bring for Networking
Having a well-designed business card is an important tool to help you to present your brand and come across as a professional. While you may not give many out to agents and editors, you never know when you will be asked for one, and they  can help you stay in contact with the other writers you meet.
Airline weight restrictions and the physical demands of carting around stacks of paper often make editors and agents reluctant to take your proposal. Despite this, be sure to print several copies of any proposal you are prepared to give.  Some do take them, and you never know when you'll need one. An editor I met casually in the cafeteria once asked for my proposal to read in his room. Had I not come prepared, I'd have missed that opportunity. Bringing a digital copy of your proposal can be a good idea. Don't push materials on editors or agents.
Having a One Sheet can help you through the pitch session. Things to include on this sheet are your bio, contact information, pitch sentence, book summary, tagline for your book, series description, demographics of your anticipated readership, and a quick overview of ways you will market your book. Keep your One Sheet to a page, and include both images and white space.
How to Network at a Writers Conference
Learning how to navigate in a conference setting helps you relax and focus more on the experience than on yourself.  This in turn means you will be more comfortable to be around, increasing the likelihood you'll connect with new friends.
Social networking in person might seem intimidating but in actual practice can be fun. Remember that you will be among those who share your passion for the written word and also want to network with others but may be feeling hesitant. Reach out in kindness and you'll find you've forgotten your own uncertainty. This strategy has served me well many times. Besides the benefit to myself, it's the right thing to do.
'If you want friends, be a friend' is a truism because its true.
What to Do at a Pitch Session
Terrifying. That's what I'd have termed my first pitch session. After some time for perspective (and more pitch sessions), I realize that I authored my own fear. Its normal to be a little nervous before a pitch session, but editors and agents don't as a rule have authors for breakfast. They are simply people hoping to find a gem in you. The fact that they want you to succeed should help your nerves.
Confession might be good for the soul, but one of the first things I learned as a speaker is not to let on you are nervous.  Doing so places your burden on the audience and can make them uncomfortable. Editors and agents already understand pitch session attendees will be a little nervous, and keeping your feelings to yourself comes across as more professional.
At my own pitch sessions, I call upon my theater training, keep a good posture, and present myself as poised. No one needs to know if I'm quaking inside, unless I give it away by babbling.
If you're like me, you talk too much when nervous, but a simple greeting, followed by a little about you and your pitch sentence, is all that's needed. Your pitch session will be short, so make the most of the time and don't spend it in needless small talk. You'll want to guage this, since everyone is different, but I try to follow the lead of the publishing professional I'm meeting with, which usually means getting straight to the business at hand.
Forgetting your pitch sentence shouldn't be a concern for you. Do your best to memorize it, but also write it on a paper you carry into the pitch session. Having a one-page pitch for your project (known as a One Sheet) with you is a nice touch. When push comes to shove, it's better to read your speil than to be paralyzed by fear. Do this casually and without drawing attention to your memory lapse.
Be prepared to go into more detail about your project if asked. This part shouldn't be memorized but spoken from the heart. If speaking spontaneously is difficult, you may be able to wax poetic if call upon the passion that sparked you to develop your project.
Meeting Agents and Editors at Other Times
There may not be a formal opening with an agent or editor you want to pitch, but you run into the person somewhere at the conference site. Is it okay to pitch? It's usually understood that writers will be pitching agents and editors outside formal pitch sessions, but you want to judge the situation.
Is the editor or agent heading somewhere with a tense expression and body language that seems closed? In that case, I would wait for another opportunity. Take the setting into consideration. While waiting in line at the restroom may not be the best time to bring your project up.  Conferences often ask editors and agents to sit with writers during lunch, and that is probably one of the best times outside of a pitch session to approach.
Volunteering to drive conference speakers to and from the airport can net you uninterrupted time. In this situation, though, you want to be considerate and avoid bringing up your project if the agent or editor is distracted or otherwise engaged.
In this, as in all conference networking, the Golden Rule applies.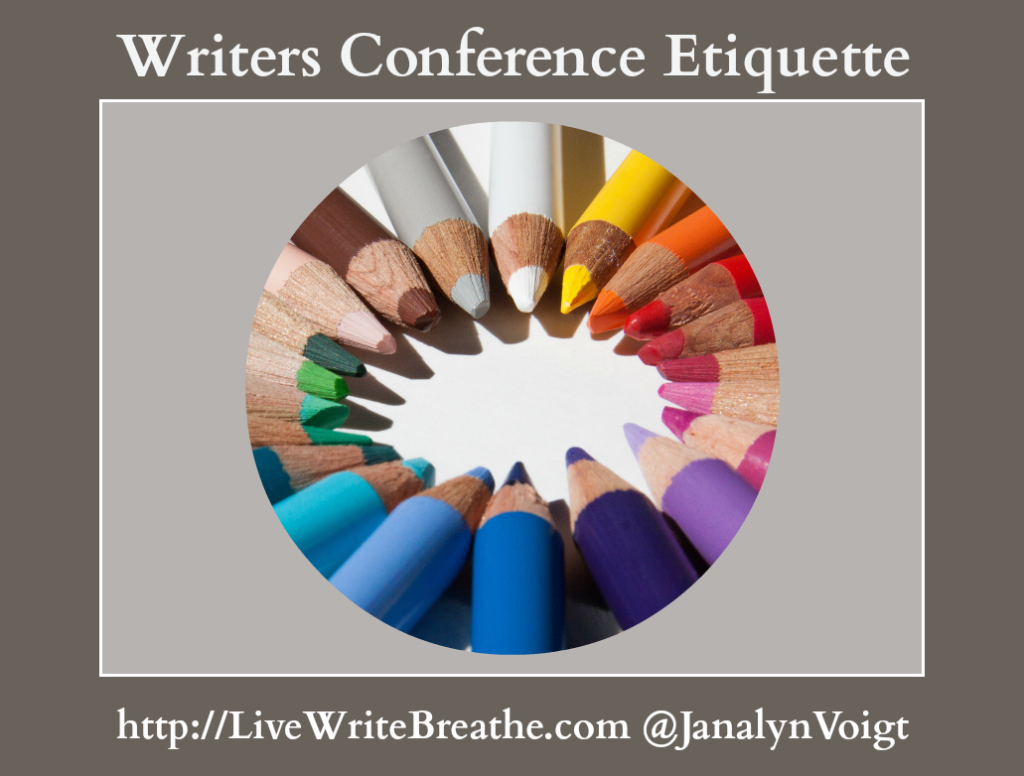 Have something to say? The comment link is at the top of the post below the title.
©2014 by Janalyn Voigt
Claim your free copy of How to Edit: Checklists and Guidance for Fiction Writers