Writing in Multiple Genres
Writing in a single genre is primarily a marketing tactic designed to connect an author as quickly as possible with a specific group of readers.This concept is not a new one, however today's considerations may make those who favor it more forceful in their opinions.
Some Considerations
It's easier than ever for a writer to become a published author. Despite this (or maybe even because of it), marketing a book is now a whole lot harder.  Unless you've been hiding somewhere or are just emerging, you are aware that the responsibility for marketing your book sits squarely on your shoulders. That's true whether you are an indie author or traditionally published. If you are like most writers, you already feel overwhelmed by everything you have to do.  These are all compelling reasons to limit the expenditure of your time and energy to a single genre audience, but there's another consideration that makes this decision a tough call.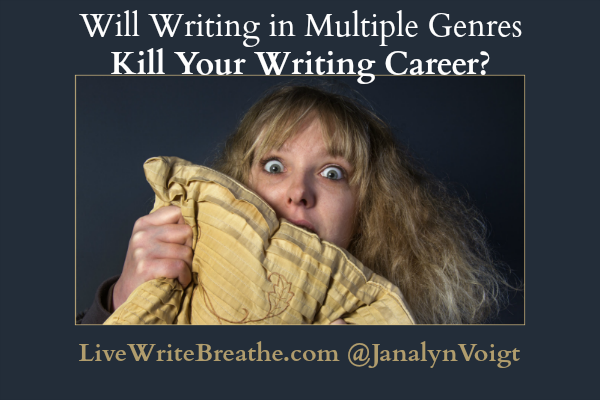 You are an artist whose creativity, if compressed to a single channel, may choke and die.  At least, that's the fear. It may also be the reality for some. In such cases, the decision to write in more than one genre is a necessity. If this is your situation, you will need to embrace the negatives with the positives. The challenges of writing in multiple genres will cause you to stretch as a writer, possibly more quickly than if you had limited to one. Contrasted against that benefit is that you may experience  slow growth in any single genre.  It takes repeatedly writing books in a genre over time to grasp its complexities. You will experience, hands down, more time stress from writing in more than one genre.  That's caused by the demands of building multiple platforms and feeding new material to more than one audience at a time. This is a real consideration you should weigh in your decision, as I can testify (since I write both epic fantasy and romantic suspense).  As with the type of growth you will gain, the platform(s) you maintain will be either broad and shallow or narrow and deep. Let your comfort level with multi-tasking guide you.
My Take on Writing in More Than One Genre
Both my reading and writing tastes are eclectic, and I also have visionary tendencies. I've had to sort through a lot to figure this out for myself. I started out with the notion that I should break into the genres I want to write all at the same time. This would prevent me, I reasoned, from becoming pigeonholed. I've learned the hard way that my finite resources of time and marketing money need to be lazer-focused to have any impact.  Establishing myself in one genre to start would have been smarter. I began by landing a contract for my Tales of Faeraven fantasy series. However, fantasy is still something of a tough sell in the inspirational Christian market, so I'm also working on a platform for the romantic suspense novels I want, with my agent's help, to place with a traditional publisher. This is a good goal for my career overall, but to approach it with any impact I had to sacrifice my ambition to write in the historical romance genre. Right now I don't want to try to  manage more than two fiction genres, especially since I also plan to offer teaching materials to other writers. Ask yourself how many ways you can you split your time and still have an impact. When marketing expert and bestselling novelist James L. Rubart offered You Can Only Write in One Genre. Period. End of Story,  stating that authors should write in only one genre, he received a certain amount of push-back. Those who disagreed supported their comments by naming authors who write in more than one genre. Jim pointed out that each of the authors they named were best known for a single genre. I'm convinced that it's best to align yourself to one genre as your strongest, and from that position of strength branch into other genres. In Surviving by Writing Multiple Genres, award-winning author Jennifer Hudson Taylor makes the case that writing in more than one genre can actually enhance a writer's career. Jennifer makes the point that if your chosen genres share commonalities readers will more readily migrate between them.  Even between disparate genres this can be done. Both my epic fantasy and romantic suspense are oriented toward medieval history, for example.
You Alone Make Your Writing Career Decisions
While speaking Eric Wilson, the New York bestselling author who very kindly served as a mentor to me,  once expressed his reluctance to tell writers what to do because the advice of others harmed him for years. I remember Eric's remark whenever I hear the inevitable lectures about sticking to one genre at writing conferences.  I'm not against maintaining a single focus by any means, but one size doesn't necessarily fit all. In this post I offer only my insights and opinions in the hope that you will find them valuable, however, you must make your own informed writing career decisions.  Ah, but that's what makes the writing life such an adventure. Care to leave your thoughts on this topic? (Note: I've removed the comment system that was creating problems for commenters.) I'd love to know your opinion. Have something to say? The comment link is at the top of the post below the title. ©2014 by Janalyn Voigt Claim your free copy of How to Edit: Checklists and Guidance for Fiction Writers