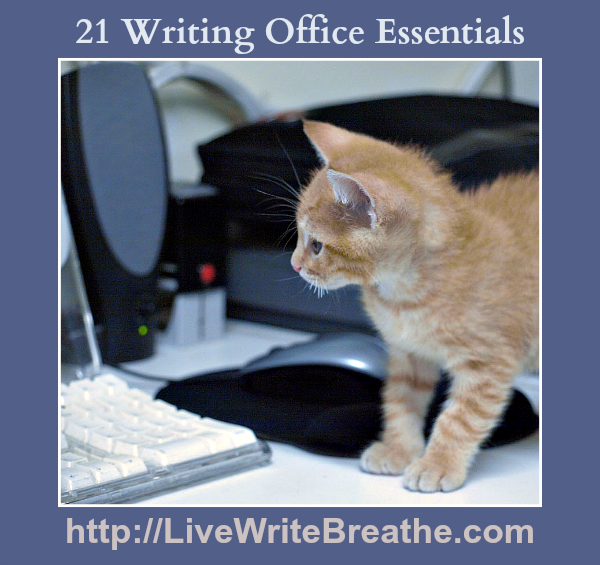 One of the greatest writing resources is the space in which we write. The enthusiast response, both at my author site and on my social networks, to my writing office in a closet post at my author site tells me this is keenly understood. Whether you are putting together a writing office for the first time or just want to improve the one you have, I can give you a perspective gleaned from years on what to include, but first I should tip my hat to the nomadic writer.
With the advent of laptop computers, coffee shops and libraries or just a comfortable couch at home can host a writing session. Some writers draw energy from changing locations, but even they would benefit from a system for keeping track of writing-related items. In this post I use the term "writing office" loosely. In reality many writers don't have an entire office to themselves. They clear off the kitchen table, claim an underused corner, or find a cubbyhole somewhere in the house. I've heard of a writer who wrote on the ironing board. There's nothing wrong with this approach, but organizing all writing supplies and files into a single location is, in my opinion, important. 
"But whatever the exterior trappings, most writers do best if they have one place and one time, when they KNOW they are going to write." Chip MacGregor remarked in his recent post, What Tools Does a Writer Need to Make a Living? This is good advice from a literary expert with a fine grasp of what authors need to create and produce.
If you can have things set up and easy to return to, you'll be a step ahead. What should you include in your writing office?
A good chair that supports your back and adjusts to let you type at a comfortable level.
A computer you can leave set up and ready.
A desk top adequate to hold your computer and at a comfortable height for typing.
A printer within easy reach.
Some sort of file holder (a filing cabinet, accordian file, file boxes, and the like) and/or binders. I personally like using binders over files for most applications, but I do also use files.
An inbox of some kind. This can be a basket, tray, hanging file, or another creative way of organizing incoming papers.
A calendar that lets you check dates readily, even if like me you use an online calendar for scheduling.
A place to store printer paper.
Somewhere to store lined paper and notebook tablets.
A supply of pens and pencils, a pencil sharpener, and paperclips, etc.
Somewhere to store the above-mentioned office supplies. Your space limitations, habits, and preferences will determine whether that will be desk drawer or desktop caddy.
Blank file folders and/or binder tabs. Your preference will determine this.
Plastic or metal magazine holders to contain back copies of magazines about writing or to study as markets.
Book shelves for your books on writing, for research, or for review. Bookshelves are handy for storing binders.

A leather briefcase for transporting your computer when you go to conferences or on research trips.

A business card file.
A business card holder to take to conferences
A place to store paper items like business cards, flyers, and bookmarks.
A framed poster or posters to use at signings.
Any specialized electronic items like a professional camera, flip camera, microphone, and the like.
A place to store archived writing projects and any writing or research notes associated with them.
Is there anything you feel shouldn't be on my list? Are there any items you'd like to add?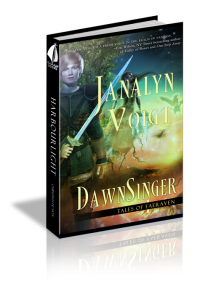 Need a reading adventure?
DawnSinger, Tales of Faeraven #1 by Janalyn Voigt
A headstrong young princess and the guardian sworn to protect her fly on winged horses to the Gate of Life above the Well of Light in a desperate bid to release the DawnKing, and the salvation he offers, into a divided land. Will they each learn in time that sometimes victory comes only through surrender?
Purchase DawnSinger today!
©2013 by Janalyn Voigt
Subscribe to the Creative Worlds of Janalyn Voigt and receive a free copy of How to Edit: Checklists and Guidance for Fiction Writers