How to Write a Novel to the End:       Your Writing Office
Having a writing office or designated area for your writing communicates to you and to others that you take your writing seriously. This boosts your self-confidence, a writing resource that can be in short supply while you are finding your way in the publishing jungle.
Having everything you need to conduct business as a writer in one place is also practical and efficient.  You won't lose time trying to find mailing labels when you need them, you'll know when your business cards need replenishing, and your project notes will be  right at your fingertips.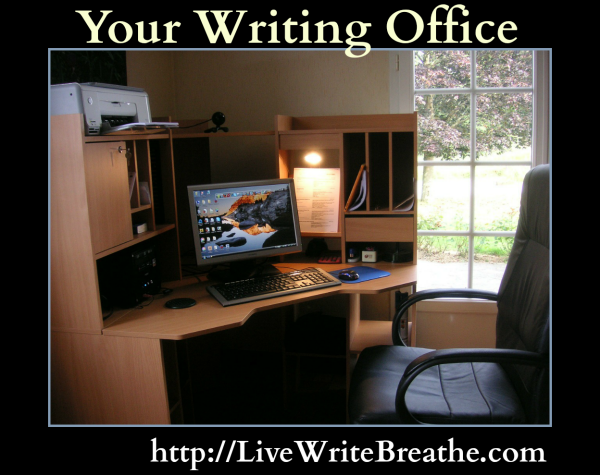 Considerations
A stationary office will probably work best if you write from a single location. You can locate your office in a whole room, a portion of a room, or even commandeer a closet. Here's a peek at my closet writing office with links to more ideas.
A portable office might suit your needs if you move around a lot. Such an office can be put together in baskets, a briefcase, or a suitcase and carried with you, as needed.
A desk near a window lets you look out regularly, adjusting your eyesight, which safeguards your vision.
Putting a printer within reach and having a rolling chair on a floor mat saves time while working. On the other hand, placing a printer out of reach and using a chair without wheels helps you move more.
Whether to listen to music or white noise: It's proven that music helps the brain pay attention. Baroque music in particular seems to help stimulate the brain. However, a study from the University of Wales Institute concluded that listening to music while performing mental tasks can actually impede concentration and recall. This does not negate music's beneficial effects for non-cognitive tasks and when listened to prior to writing.
The jury is still out on whether white noise helps or hurts productivity.
Silence may still be golden.
Optimal Conditions
Adequate lighting is essential in a writing office, with natural light being best.
Good ventilation keeps you alert and is important for health.
A quiet location with no through traffic or other potential disruptions provides an excellent environment for thought. A door you can shut when necessary may help you toward that end.
Furniture
You'll need a computer stand, desk, and/or a flat surface. Even if you prefer to write with your computer on your lap, breaking it up with stints at a table or desk helps ease strain to your back. I use a stand for my computer and a desk for managing papers and supplies.  If you are like most writers, you sit down at a desk, but some people swear by stand-up desks. Michael Hyatt makes a strong case for standing to write.
If you can't or don't want to stand to write, using a supportive chair can help you stick to writing even during long sessions at the keyboard. I suggest acquiring the best office chair you can find, getting up periodically while writing if possible, and engaging in exercise under a doctor's supervision, if needed. Please use your best judgment on how best to manage your personal health.
Unless you are a dedicated digital reader, having your writing books near will require a book case or shelf. I also store research binders and upright files containing back issues of magazines in a bookcase.
A filing cabinet comes in handy for filing loose papers of all sorts, including back issues of magazines, financial records, and tax documentation.
Books to Include
Equipment  to Consider
A good computer, a mouse, mousepad, compatable printer,  surge protector power cord, modem, router, headphones, microphone, webcam, good-quality camera, landline for radio interviews, computer disc holder may all come in handy, depending on your interests.
Office Supplies for Writers Checklist
Subscribers are welcome to download a free printable office supplies checklist for personal use.
Final Thoughts
Setting up an adequate office space to meet your needs as a writer is the first step toward writing a novel to the end.  It demonstrates to others that you take your writing seriously, and that they should, too. It can save you time and frustration while boosting your confidence as a writer. Have something to say? The comment link is at the top of the post below the title.
©2014 by Janalyn Voigt
Claim your free copy of How to Edit: Checklists and Guidance for Fiction Writers