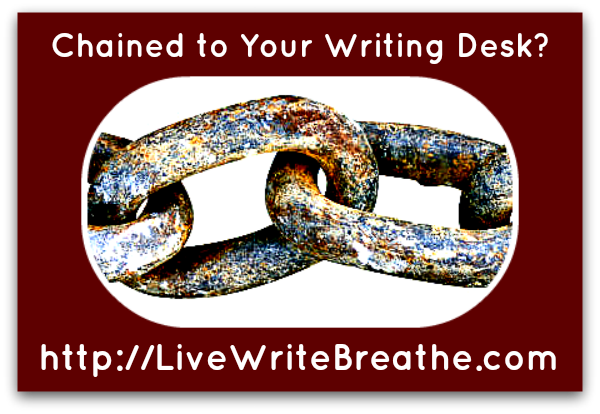 Not every writer struggles to apply the seat of the pants to the seat of the chair. Some dedicated souls have to remind themselves to stand up, walk away from their computers, look at their family members, feed themselves—you know, that sort of thing. If we're not careful, we can become driven rather than purposeful and sacrifice both self and family on the altar of ambition.
In an interview with Joanna Penn of The Creative Penn, author and writing teacher James Scott Bell describes today's publishing climate as reminiscent of the era of pulp fiction, with writers creating more and more books to survive. (I've embedded the video at the end of this post.) We're all competing in this era of long-tail-marketing for the attention of readers living in a multi-media world. The fear is that if we don't put out new books several times a year, those readers may forget us.
What the prevailing drive to produce does to the caliber of books today is anybody's guess. As might be expected, opinions vary. My take is that the time needed to create quality work depends on the individual writer. Some are able to write rapidly with seeming ease. Others slog along at a slower pace.
Yes, I said it: some writers are hares and others are turtles.
This is not breaking news, but it is something to think about with regard to your own writing. How quickly, when focused and committed to the task, can you produce your best work?
If the answer is that you're a turtle, maybe you should stop trying to wear a fur coat.
Recently, while on a writing retreat I noticed that I write under ideal conditions at the pace of 1,000 words a day. Now, if that seems fast to you, it isn't.  Since making this discovery, I set a writing production goal of a 1,000 words a day and stopped pressuring myself to do more.
I had to lower my expectations to do this, but I can now more easily manage everything else life as a writer requires from me. And I now have time just to be. If I don't allow myself a chance to stop and breathe, I won't create on the visceral level that I want to write.
Now that would be a real tragedy.
Interestingly enough, taking the pressure off myself boosted my writing productivity. Most days I easily reach my word count goal and move on past it. I'm still not sprinting, but I'm walking faster. That makes me happy, but when all is said and done, sustainability may prove more important than speed.
Sometimes the tortoise wins.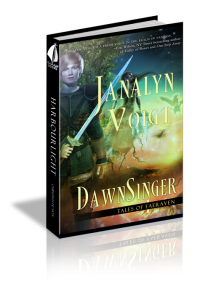 Need a good book to read?
DawnSinger, Tales of Faeraven #1 by Janalyn Voigt
A headstrong young princess and the guardian sworn to protect her fly on winged horses to the Gate of Life above the Well of Light in a desperate bid to release the DawnKing, and the salvation he offers, into a divided land. Will they each learn in time that sometimes victory comes only through surrender?
Purchase DawnSinger today!
©2013 by Janalyn Voigt
Subscribe to the Creative Worlds of Janalyn Voigt and receive a free copy of How to Edit: Checklists and Guidance for Fiction Writers