Defining Writing Success
Let's face it, being a writer is tough. 
The stereotypical image of a writer on a tour paid for by the publisher and signing books for long lines of people just doesn't happen that often anymore.  Extremely successful writers can still draw favor, but book signings are less frequented than they once were.
Advances have gone down as well, and fewer traditionally published books 'earn out,' meaning that the publisher makes back expenses and can pay the author royalties on future sales of a title.  I am still learning on the indie author front, but from some of the statuses I've read, sales statistics aren't making very many jump for joy.
It follows that relying on fame and the making of copious amounts of money as motivators can discourage the best of us.  But what if we use a different measurement of success than sales, rankings, or popularity?
What if we allow ourselves the space to count success as lives touched for the better from what we write? Who can quantify such a thing? Whether our words give a few hours' diversion in a life of drudgery, a new perspective on a problem, or the courage to step up to something intimidating, they have made a difference for someone else.
And that's awesome.
Speaking for myself, I often can obsess about the readers I don't have rather than celebrating those I do.  That changes today.
Attaining writing success lies largely in the definition.
What if we defined success on our own terms? What would that look like?  The compulsion to market would ease, but we'd still put the word out about our books because we're so excited to share them with others.
We'd feel less driven and discover that there really is enough time in a day for the things that need doing. I'm-not-marketing-but-should-be guilt would vanish, along with the infamous I'm-not-writing-but-should-be syndrome.
Let it go.
Breathe.
Now write.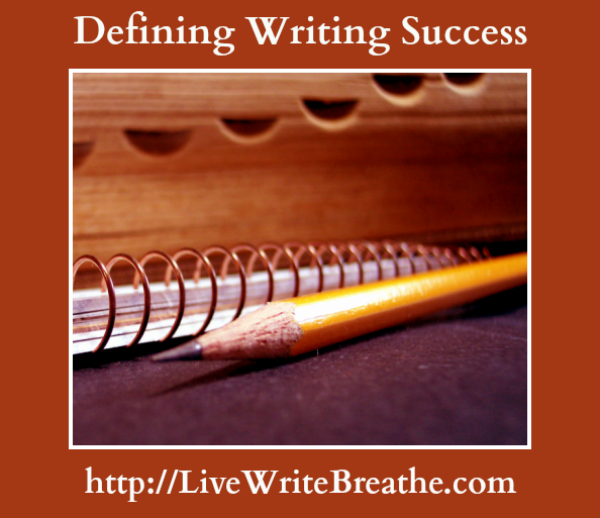 Have something to say? The comment link is at the top of the post below the title.
©2014 by Janalyn Voigt
Claim your free copy of How to Edit: Checklists and Guidance for Fiction Writers