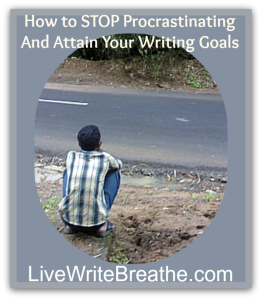 I overcame my procrastination and lived to tell about it.
Writing that sentence reminds me how far I've come as a writer. I don't have life neatly sewn up in a bag, but I have learned valuable skills that helped me become a traditionally-published and agented writer at a time when that's remarkable. I can't claim entire credit for my accomplishments (since much of went into achieving them lay outside my control) or promise you the same results. However, had I not followed the practices listed below, I would not have succeeded. The flip side of the same coin is setting and attaining your writing goals. I'll cover why goals are important and give you a glimpse of the ones I set for myself.
Self-control: When a local homeschool group invited me to write a newsletter article on how to teach children how to apply the Biblical fruit of the Spirit to their lives, I took on the challenge. The only problem was that I didn't really know how to do this myself. I scoured Scripture for passages and discovered an amazing truth. No matter which fruit I studied ( love, joy, peace, forbearance, kindness, goodness, faithfulness, gentleness and self-control), the answer was always the same. Parents are to teach their children by example. That message hit me between the eyes in a life-changing way. Self-control is a fruit of the Spirit, and the one I most lacked whenever I gave way to procrastination. This led me to the next tool on this list.
Prayer: I took my deficiencies to God in prayer and asked for help. It sounds simple, and it is. That's not to say this solution is simplistic. One of the reasons prayer is so powerful is that it changes the person praying for the better.
Will Power: Freedom of choice can be a friend or enemy, depending upon an act of the will. All the solutions in the world won't amount to anything without a commitment.
Habit: Knowing my tendency to let distractions turn my head, I set up routines to keep me on track. Not everyone can keep as tight a schedule as I do, but even a loose routine is better than none.
Accountability: Being self-motivated, I use this tool less than some, and now deadlines mostly take the place of accountability partners. It's still a good practice, especially when you have no deadlines yet, to take advantage of opportunities for accountability. Having someone waiting to read what you write, as in the case of critique partners, is a great way to develop self-discipline.
Goals: If you've ever embarked upon a spontaneous day trip that didn't turn out, you already have an idea of why it's best not to leave your writing journey to chance. Viewing writing as a career choice clarifies the need to set and maintain viable goals. Can you imagine any other company leaving its products and expansion tactics to whim? A successful business researches and reaches its target audience in manageable ways. It positions itself for maximum impact and establishes a brand identity to shortcut finding its products for customers. It takes its resources into account to set a marketing strategy and adheres to its plan. Writing at a professional level means going into a business. It means setting, maintaining, and monitoring goals.
Setting Goals: Use the S.M.A.R.T. system to set writing goals that are specific, measurable, attainable, realistic and timed. I'll write in more detail about goal-setting in future posts. For our purposes here, suffice it to say that specific goals contain details that pull them out of the ether and make them measurable so you know when you attain them. They lie within your power. For example, I could not set goals to become published or find agent reputation because attainment rested on the decisions of others. Those were my dreams. Goals should also have a time designation (or deadline). Increments often used are lifetime, 5-years, 3-years, 1-year, monthly, weekly, and daily.
I'd love you to sound off and let me know your thoughts. What writing goals do you plan to set?